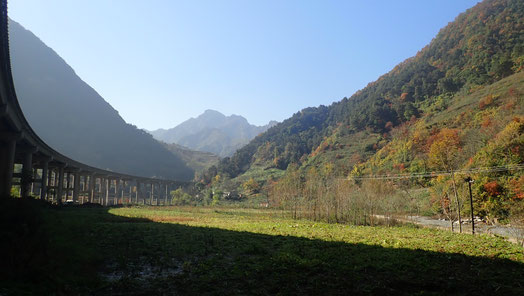 Exiting Shaanxi meant climbing into the mountains. At first, it was a daunting task as our experience in Shaanxi had been relatively flat. The flatness was much appreciated as our intention from the start was to ease into the walk. The mountains ahead of us were only going to get bigger, and two weeks of walking on flat surfaces was more than enough for us to feel "warmed up."
We quickly fell in love with the mountains as we walked through, it gave us a greater sense of awareness and a feeling of "damn, we got a long way to go!" We no longer saw a big sky for miles, only the mountains on either side of us. We walked through canyons that twisted and turned as the river cut through them, giving us a natural pass to walk through. The mountains were full of life and had little development to them as they were just too remote and difficult to make the terrain bend to man's will. Cliffs will do what they want to; they hardly bring wheat to harvest.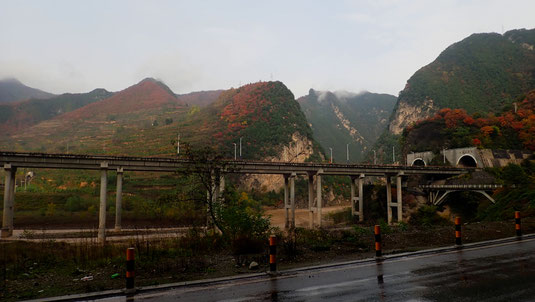 When the road started to climb away from the river, we realized it was time to go over our first mountain pass. More of these were coming, but the first will never be forgotten. The small road climbed up and up, and we saw the highway below us go through a tunnel... cheaters. The switchbacks were countless and steep, but the traffic was non-existent. We made it to the top and celebrated with winded lungs and Elvis legs.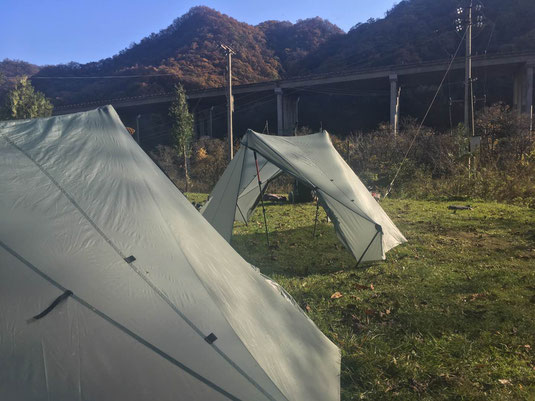 Camping often seemed like it was the only option in the mountains, which we were happy about. No distractions from warm rooms, beds, showers, or the internet meant we did chores faster and got to bed earlier. On one night, as we were just about to start cooking, we had a forest ranger come up and tell us we could not camp in the park. We had no idea we were even in a park at the time! In a firm, yet fair way, he told us that there was an inn 7 km down the road. We packed up our stuff and started the move. It quickly turned from evening to night as we walked down the mountain to the town. When we finally made it to the town, it was 9:30 PM, just in time for dinner! 
The people we met in the mountains were few and far between. It was in the southern mountains of Gansu that we learned the lesson: You never know who you're going to meet on the road that will turn out to be a friend. After crossing over three mountain ridges, we crossed paths with a man running up what we were walking down. Without hesitation, we all shouted, "Jia you!" Chinese for "Come on, you can do it!" and fist-bumped him on his way up. A few hours later, as we were taking a snack and rest break, we saw him running back down the mountain. He stopped and asked us what we were doing. When we said we were walking the Silk Road he immediately invited us to lunch. Lunch was still another 5 km down the road, but we agreed and looked forward to eating with him.
He turned out to be Wang Zhaopeng, and Wang happened to be the first in a snowball effect of kindness from strangers. He hosted us to a huge lunch and brought three of his friends with him. They gave us local information on what to eat along the way and said that we should contact them when we made it to Tianshui (our first hub in Gansu Province). We did not know what to expect when we went to Tianshui, but said we would let him know as soon as we were there.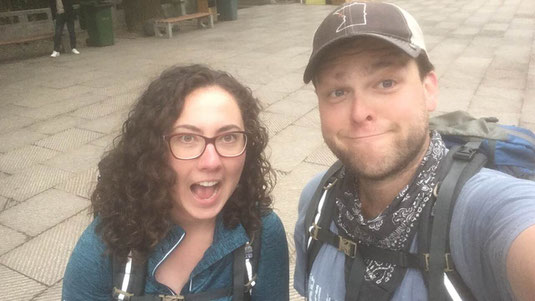 We had to get going because we were only a day away from meeting up with Conner Keeffe, our video and image guru. We planned to meet at the Maiji Shan Grottos, the largest Grottos in China. We could not and would not be late! Conner, being our first walking guest, meant a great deal to us, and we were going to make her time here enjoyable and worthwhile.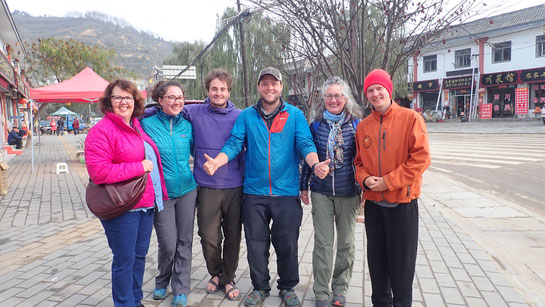 Her mother, Julia Anderson, and aunt, Kathryn Anderson, flew all the way out to China with her to see that she was dropped off safely with us. They turned out to be some pretty rad ladies and joined us for our walk through the Grottos. We laughed and enjoyed each other's company as we finally had someone else to tell our stories to, and they were able to share their experience in China so far with us.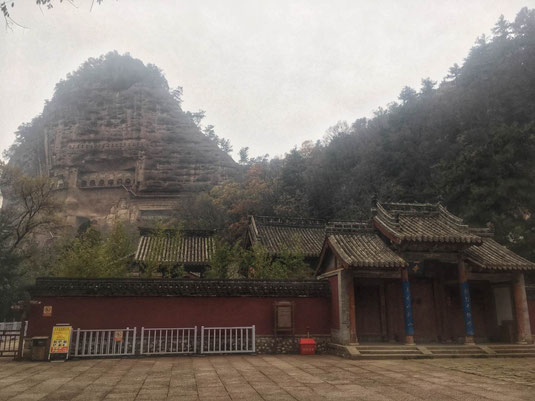 We were all in awe at the size, scale, and ancientness of the carvings that peppered the cliff side. They ranged from multiple stories high, to six-foot manikins, and even one-inch shrines. One person could have dedicated their entire life to this place and only add less than 1% of the total sculptures that were present at the Maiji Shan Grottos. 
We thanked Julia and Kathryn Anderson for safely dropping Conner off with us. And for the record, Conner is an experienced traveler who has spent multiple years traveling and living abroad. Her family is just awesome and wanted to come with her. With our fourth person now alongside us, we hit the road to Tianshui, a cultural hub for the Silk Road and a place of mystery for us as we knew very little about it.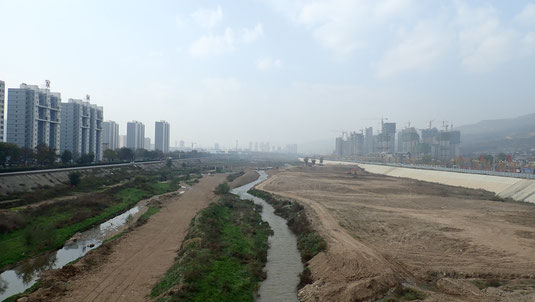 When we made it to Tianshui, our original plan was to walk right through it, but we found this place interesting enough to try and make more of our experience here than just a night at a hotel. We did not anticipate we would spend more than four days traveling around the city. We contacted Wang Zhaopeng and passed on that we were in Tianshui, which he quickly responded saying he was going to pick us up and go to the Fuxi Temple in Tianshui, something we knew little to nothing about.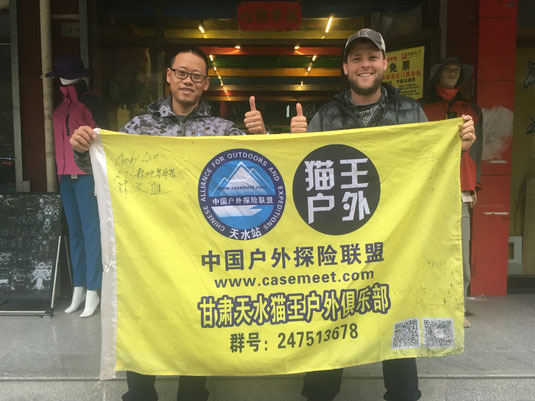 When we first arrived in Tianshui the day before, Paul had been getting some blisters from his shoes and was on the hunt for new ones, something that is sure to happen again. The owner of the shop was amazing, and keen to talk to us about our expedition. He also shared his experiences as another avid outdoors person. Being the first person that we had met on the walk, who wasn't aghast at the idea of sleeping outside or confused to why anyone would want to do such a thing, we wanted to interview him. He was someone who understands what we're doing on an innately greater level than most the people we've been able to meet thus far on the trip.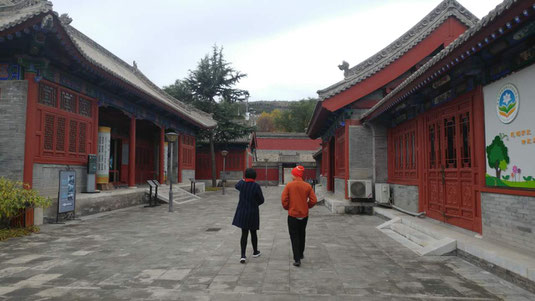 While Paul and Conner were interviewing the outdoor shop owner, Timb and Pat were getting VIP treatment at the Tianshui Fuxi Temple. With free access to the temple, it apparently meant they were going to be filmed as they walked through the place. They will undoubtedly be a part of some future promotional video for the Fuxi Temple. Their paths towards fame only grow each day of this walk.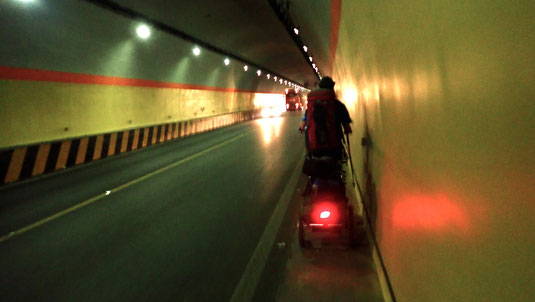 We thanked everyone and said our goodbye for the next day's intention was for us to leave Tianshui and continue north through Gansu. Our hike out consisted of slippery roads and dark tunnels. Fortunately, the friends that we made though Wang Zhaopeng came and dropped off bread and hot water for us as tokens of good luck. We made it over the mountains that surrounded Tianshui and to the next town over. We would have stayed the night in this town if it wasn't for the fact that a large portion of inns in China cannot host foreigners. After a long day of hiking with tunnels and a mountain being crossed, we were escorted all the way back to Tianshui, back to the hotel we had left that same morning. Before we were escorted back the inn offered to watch over our trailers for us for free, and we planned to return tomorrow via taxi and continue our walk from there in the morning.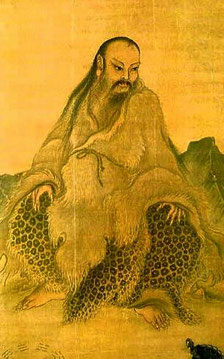 Feeling somewhat defeated, we let our friends know what happened to us. This turned out to be a blessing in disguise because instead of offering simple condolences they proposed we go to the mountain that Fuxi found enlightenment. This happened to be right on the same path that we would have to use to backtrack to the next day. First, a quick and dirty synopsis as to who Fuxi is. Fuxi was an ancient Chinese god who is a cultural hero in modern Chinese legend and mythology. He is credited with creating civilization, the invention of hunting, fishing, cooking, and is said to have shown the ancient Chinese people how to domesticate animals and the institution of marriage in Chinese culture. They say, that after witnessing a unique turtle come out of the water after a great flood, he noticed that it had very special markings and patterns on its shell, and soon after this event Fuxi was inspired to create the trigrams (八卦 bāgùa) and Tai Chi principles of the I Ching. He was one of the founding fathers of Chinese culture and society, and his teachings are still alive today.
Well, we got to go to where the dragon he rode on laid to rest, which is now a mountain. On the dragon's head is a temple to Fuxi and one of the strongest quantities of Chi that the planet exerts into the world. The human equivalent of the heart of the world, we were told. It's hard to describe the feeling of being somewhere seen as so powerful and full of history. From the mountaintop, you could see a river cutting through the valley, making an 'S' shape in the earth. It wasn't hard to imagine the Yin Yang symbol as the entire valley below. How could we have come so far in modern-day education and have never heard of Fuxi!? We've heard of Confucius, but not the man who is credited with starting so much more? Can you imagine knowing about the Crucifix but never hearing of Jesus? We all know the Yin Yang but did we know about Fuxi? It would feel the same way, I imagine, hearing the story of Jesus for the first time.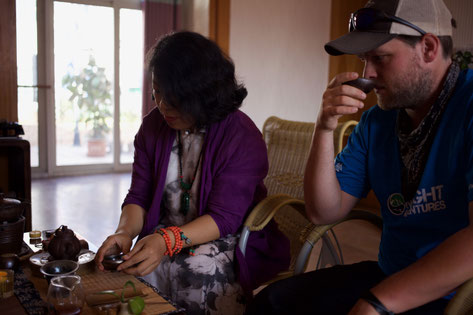 Our friend, who brought us to the Fuxi mountain, was the wife of one of the friends Wang Zhaopeng had introduced to us. She had brought her children along with us and after blowing our minds she invited us to her place for tea. We interviewed her over 50-year-old tea, and thanked her profusely for her kind hospitality and insight into the local area. 
Our time in Tianshui had dragged on for four days at this point, and it had been filled with interesting people, fascinating places, and lasting pride and purpose for the people there. We packed our things and attempted to leave Tianshui one more time.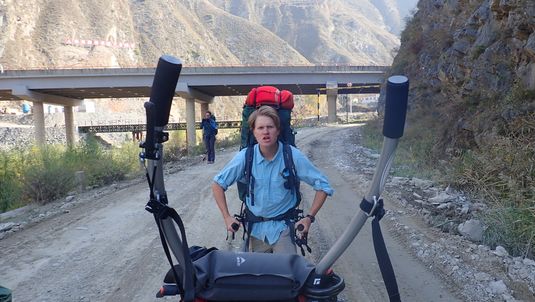 We had two options ahead of us, either take the highway frontage road or cut through the mountains. We had spent multiple days on the highway frontage road, and it wasn't always nice. Big trucks whipping by, blind corners, small shoulders, and a general fear of traffic brought us to the conclusion that taking the mountain roads would be much more enjoyable. 
We made it four days into the mountains before we decided: "There is a reason the highway is over there and not here. That's the path that the Silk Road is actually on! No one bringing goods would take it over these mountains when there is an easier path not too far away." Our legs were Jell-O as we spent half of each day climbing up steep mountainsides. We were not making fewer kilometers each day, but we were crashing harder every night. It wasn't sustainable, and we knew it. When we had the opportunity, we jumped back onto the frontage road and continued our walk to Lanzhou.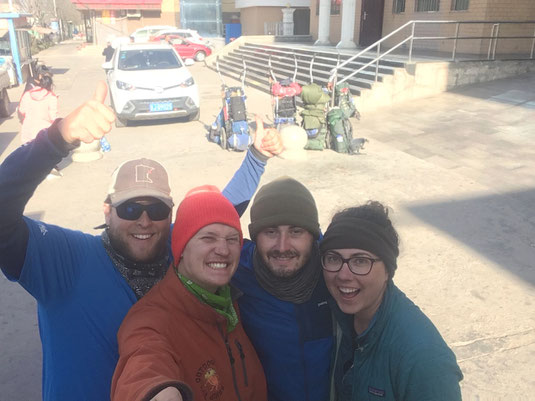 Our last night with Conner was in Dingxi, a town three days outside of Lanzhou. She had spent three weeks with us, documenting, criticizing, and providing invaluable insights as we walked Southern Gansu. Conner supported us like no one has so far. Having someone join us for a section inspires us to complete the Silk Walk even more. From the bottom of our heart, Conner, thank you for walking with us and all the support you have continued to give. Support staff of the month, hands down!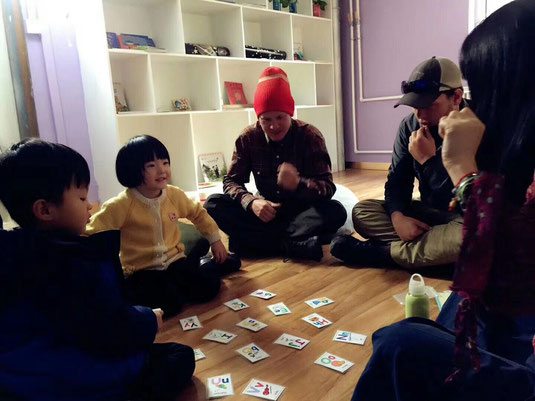 When we finally made it to Lanzhou, we did not know what we were getting ourselves into. Thus far, Lanzhou was the biggest city we had been in after Xi'an, and we didn't know what to do with our time here. We had arranged a Couch Surfing connection, and our first mission was to make it to her place. Our host was an English teacher, who was also a highly traveled individual herself. The first night we met up with her, we spent most of our time talking about traveling along the Silk Road, something she hitch-hiked a few years back. We all went to one of her classes and helped teach English, and even learned a little Chinese while we were there.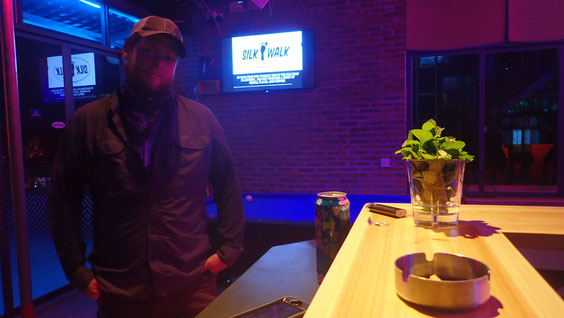 When we left Lanzhou to do our border run, we did more than just hop the border and hop back. We went to Yangshuo, the town Pat and Paul have called home for the past 5 years. We weren't just going back to Yangshuo to see friends and spend time away from the walk though. We went to try our hands at doing our first presentation of the Silk Walk Expedition. During the few days before the night of the presentation, we all did our own thing. This was the first time we had time away from each other for over 60 days. It was a pretty big deal for us. Pat and Timb ended up chilling in their rooms and going climbing, while I got to spend time with Vivian. We all recharged ourselves mentally and physically. By the end of day 4 in Yangshuo, we were all ready to get back walking again. Despite this, we had another 3 or so days before that would happen.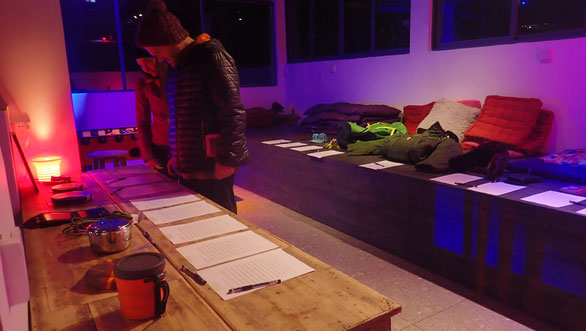 Our presentation in Yangshuo was at a local bar called The Rusty Bolt. This is the bar that most of the expat and climbing community comes to wet their whistles in the cool of the evening. The three of us know the owner on a personal basis, and had made the arrangements for the event weeks prior. The day before the event was spent scrambling to hang posters around town to get the word out. We had planned not just a 30-minute presentation, but an entire evening. There would be a silent auction, a Killer pool tournament, and even trivia on top of our personal presentation. 
This was the first presentation we had done as a team, and yes, there were a lot of things we can do better at next time, but it went pretty well for us. Hopefully, we'll be able to present our expedition with more people along the way and share the stoke with those who will hear it!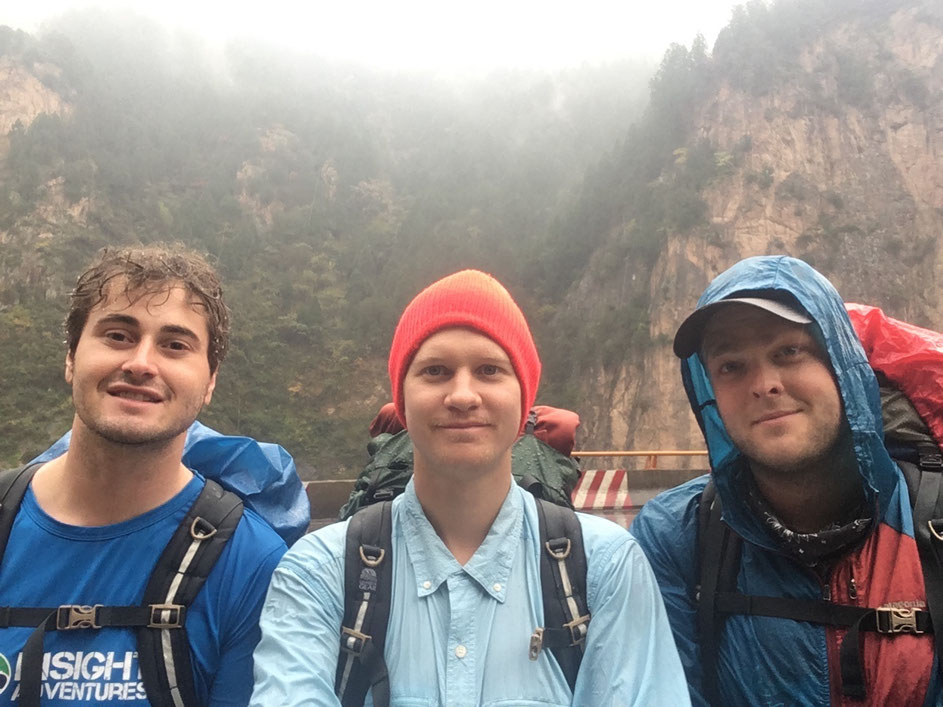 This was the second leg on the Silk Walk, and a monumental feeling for us. The people we've met have left a deep impression on us. The places we've been have opened our minds to show us a great understanding of the world. We feel a greater sense of purpose as we continue down the Silk Road. We wish the future legs of our walk will fall like dominoes the same as in Southern Gansu.
---
Regional Stats
Days in Region: 39 
Kilometers walked: 511
Cumulative
Days on Expedition: 53
Distance: 812 Km (~507.5 Miles)