This leg of the journey was the easiest one to plan the route for. The reason for this is that it leaves no options. The Hexi corridor is a narrow valley squeezed between the Qilian Mountain Range to the south and the Gobi desert to the north. While walking it, we could often see all the routes through the valley: the expressway, the highway, the slow train, and the speed train. Every one of them, with the exception of the speed train moving both goods and people back and forth. The trucks passing by are too numerous to count; it is easy to see that the Silk Road is still alive in this place. The expressway, in fact, is a testimony of this, part of the One Belt One Road initiative. This is China's giant project to modernize and revitalize the Silk Road. From the number of trucks still on the highway next to it, that expressway was definitely needed. Perhaps it was the ease of the route planning for this section that often had our minds focused on the route far ahead. Many days of travel we spent weighing the arguments for massive route changes and what they would mean going forward.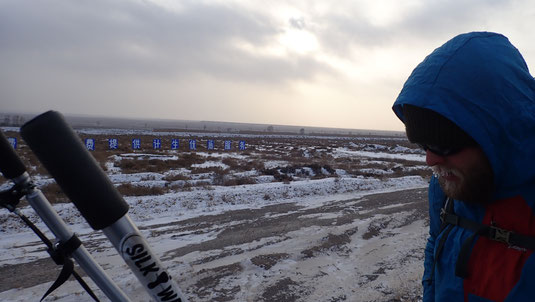 This section began a trend for us, that will only continue until we have crossed Kyrgyzstan, of lessening amenities. With that knowledge in mind, we assumed we would start camping more this section. When we planned the trip, we thought we would have to camp nearly every night in China since the areas would not have hotels that accept foreigners. We learned quickly though that we would be allowed in, especially in the most remote of places. Rather than camp more in this section though, as things got farther apart, we simply walked farther in our days. The cold was also a contributing factor in us walking farther each day. It was during this time that we began to really deal with the cold of winter. The first week of January was particularity cold and windy. I had made the assumption that we would end up traveling shorter distances when the cold finally hit us. The opposite turned out to be true. We got to camp at 5:30 PM on one of our first cold evenings, made dinner and ended up crawling into our warm sleeping bags around seven. We remained in them until the world around us began to warm up from the rising sun around nine in the morning. Deciding not to spend 14 hours in our sleeping bags each night, we adjusted our plan to walk until we were ready to sleep.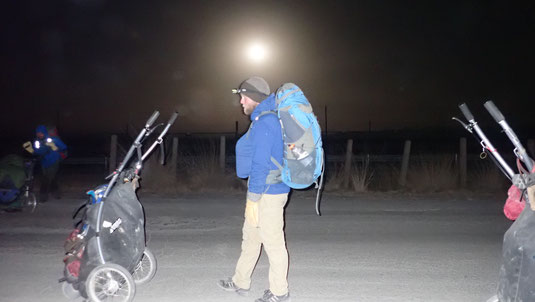 Instead, we began to walk till nine or ten at night, staying warm from the movement. Our breaks also shortened as we got cold sitting in the wind on the roadside. All this lead to greater distances of travel each day. Even as the temperatures were falling, the dry environment meant that if the air was still and the sun was out, it would still feel nice. Often even too warm for me (Timb) to wear socks while walking. Where 22 km might have felt like an average day earlier in the trip, 28 km felt average this time with us even doing multiple 30+ km days in a row, and a 41 km day. To Paul's disappointment, this was one kilometer short a marathon. Another part of what I credit this to, besides simply getting stronger and avoiding the cold, has been returning to our original structure of taking a break every two hours. In the first leg, almost every time we broke 30 km our bodies felt the impact. This leg though we were able to maintain that pace for 3 or 4 days straight, multiple times. It is time that we got this down now. Next leg we will finally have no choice but to camp many nights as we will begin our expressway crossing of the edge of the Gobi Desert. There we will want to travel fast, and minor injuries will be a much bigger ordeal as we will have a limited water supply. After this last leg though, I am feeling good about this section probably for the first time since planning this intimidating and exciting part of the route.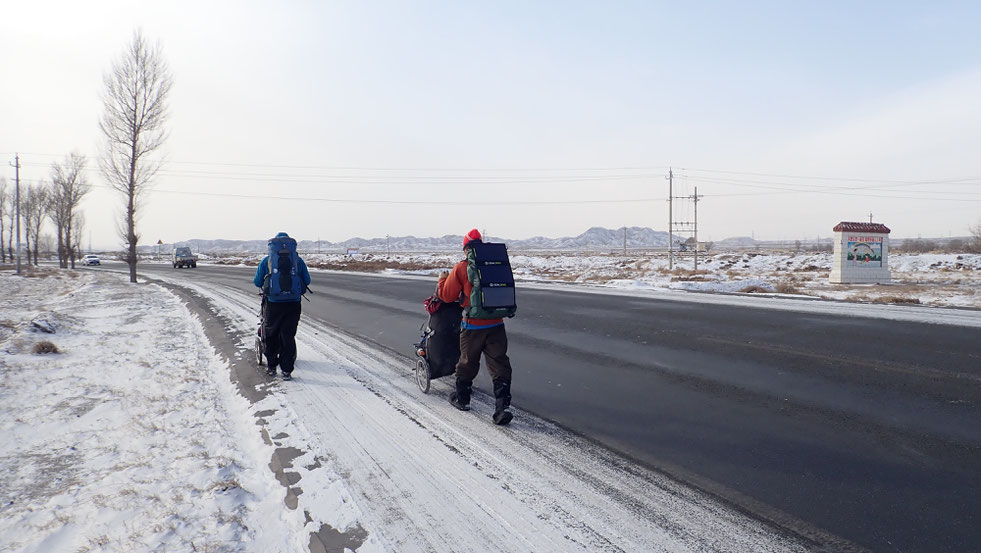 Central Gansu had a subtle beauty as the expanses of grasslands led up to the solitary line of mountains to the south and jagged desert peaks to the north. It was the first time in China we felt we were in a de facto wilderness, with vast areas that looked like they had not been developed since the, now crumbling, Great Wall was built there. The wall there was not like you may have seen in pictures. Taking on more of the form of a clay-like earthen wall with many gaps in which the remnants are no longer even laying around.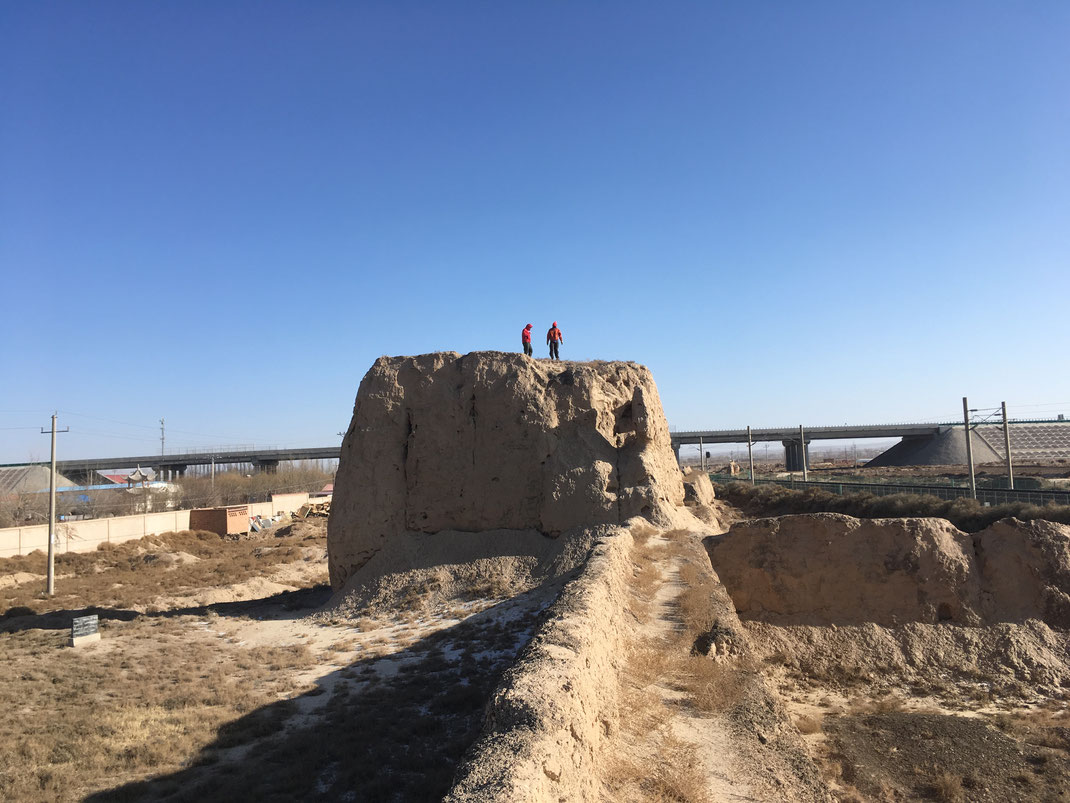 Just outside Shandan, we stayed at a small hotel restaurant which had a guest book. This undistinguishable place is not where you would expect a guest book. We only found out that this place existed by asking around on the street. The owner excitedly showed us the entries, proud of the foreigners he had hosted here. To our surprise, we found an entry by Christoph Rehage on his journey, The Longest Way. He started walking the Silk Road from Beijing in 2007, we have used the writings of his experiences as a resource, and it was exciting to come across a small marker of him having been here. It makes me curious as to who may find, and recognize, our stickers that we have been leaving along our way.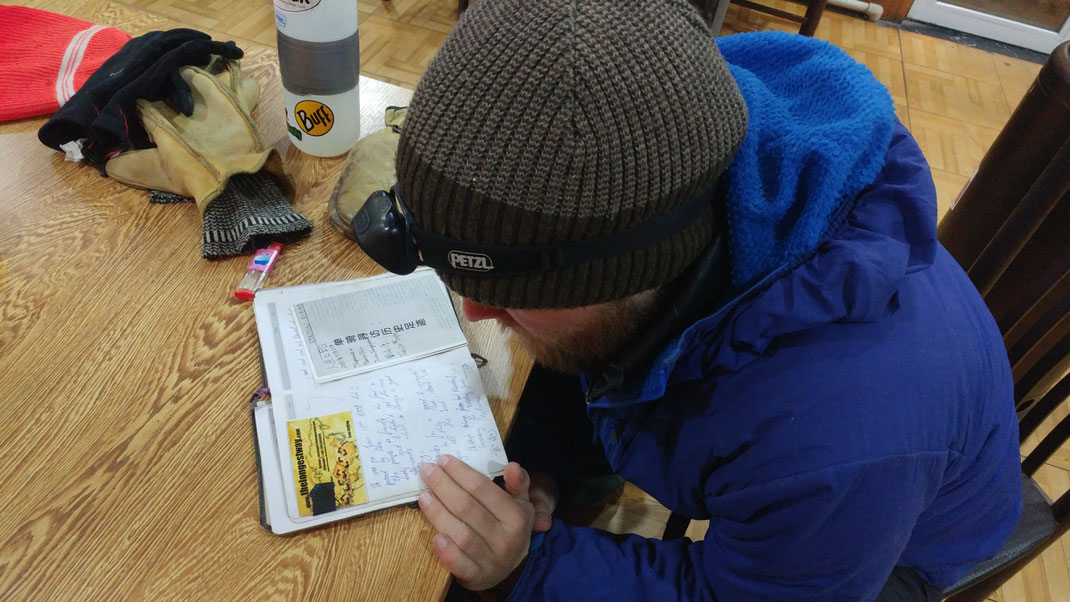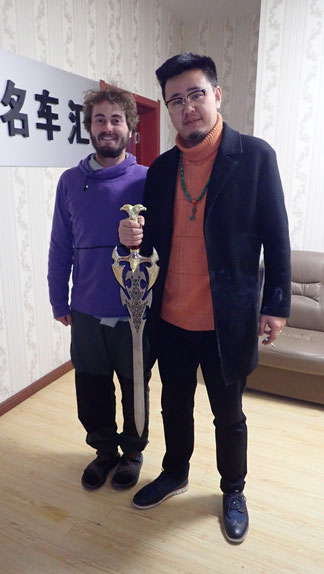 We received more hospitality in this leg than earlier. One evening, as we decided to use a convenient picnic table on the sidewalk of a rural village, we asked a shop owner if we would be able to have some hot water for our instant noodle dinner. After he gave us water he invited us into his house. After having eaten our dinner, he then invited us to stay in the bedroom of his children who had already moved out.
In Wuwei, while we ate ròujiāmó, we were approached by someone who used a little English to ask what we were doing. After explaining ourselves, Mr. Long invited us up to his internet café. A little hesitant over the unknown social situation we were entering, Paul and I ventured up. We ended up spending Christmas and a couple other days there, hanging out with Mr. Long, and even posing for fire training photos for his internet cafe.
After Wuwei, we made friends on the road on our way into Shandan. In an event that is somewhat common they pulled off the road to take pictures with us and find out what it was we were doing. Afterwards, they invited us to dinner that night. We joined them for dinner, which was one of the best meals I have had here. Luckily, they were a group of cooks so they knew where to go. After a fun and lively dinner of about 8 people, they offered to guide us around the next day. They took us to the Temple of a Thousand Buddhas, which contained a massive indoor buddha larger than I have ever seen before. Then it was off to another feast for lunch with drinks. We met other friends of theirs, learned more about Shandan and also gave them a window into American culture.
Continuing on, we entered a remote crossing and found ourselves stopping to camp early for the night. Paul and I did not want to go to bed yet, so we headed back 200 meters to a truck stop restaurant. A trucker there asked where we were staying and when we told him we were camping, he recommended that we ask to stay at the truck stop. After dinner, we asked the owner if we would be able to stay for the night. He responded, "do what you want." Paul and I were thoroughly confused by this answer. Was this an invitation? We did want to stay there. Was this out of begrudging acceptance, not wanting to turn us out to the cold, in which case we would prefer to camp. We decided to consult our trip director, Vivian, to help us navigate this cultural confusion. She talked with him on the phone, and it turned out that he had been worried that the staff housing wouldn't be nice enough for us. She ensured him it would be fine. He then showed us the small room us and the cook would share for the night. The next day, we ate breakfast with him and lingered longer than we planned to. We talked to him about what we were doing and had other random conversations throughout the day till lunch, when we all ate together again. Finally moving to take our leave, he refused to accept any money despite our repeated attempts to pay. We all took photos together then headed out.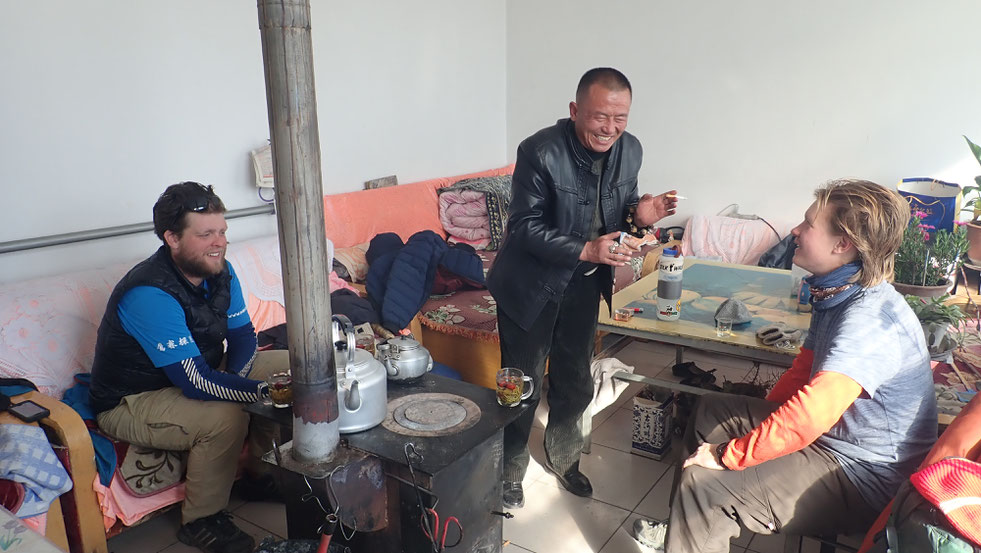 While passing through a small village, we were approached by a man who invited us into his home for lunch. He was a little drunk, friendly, and ultimately very concerned that we did not have enough warm layers on and tried to give us some. These moments of kindness we received from strangers were what had the largest impact on me throughout this section. They are what stands out more than the temples or mountains. It was these times I began to feel connected to the people, and through them the places we have passed. I learn more about China and Chinese culture in a four-hour dinner with a large group than in a month walking through China and eating on our own. The kindness we received from strangers provides motivation and strengthens the resolve to continue on.
Zhangye was the second-to-last landmark along this section of the route, and one I had been looking forward to since the planning process. Zhangye is home to the Rainbow Mountain Geological Park. Although it was beautiful to see the park, the most enjoyable part was when Vivian arrived on a surprise visit for Paul's birthday. We drove out and explored a random canyon on the roadside. Oddly enough, while scrambling and exploring what we named Ice Bridge Canyon, we realized that the feel of adventure has been lacking on this journey. While we are following the roads off the beaten path of tourism, the nature of traveling the silk road guides us down a very well worn path, one taken for it's ease of travel for centuries. Therefore, as crazy as it may sound, adventure and exploration are some things we will need to be intentional about incorporating into this journey. I am not sure exactly how we will do this yet. Hopefully, it will be easier as we increasingly enter more wild lands. 
We arrived in Jiayuguan for our border run in good spirits. We spent a few days there before heading out on our border run. We had arranged our flights 2 weeks beforehand, while tickets were cheaper yet close enough to ensure we would make it to Jiayuguan on time. There we stayed at a nearly empty hostel. Only four other people were in and out during our time, and they all kept to themselves. It felt as if we had moved in, as we took up the whole space of a eight-person dorm room. We spent a lot of time in the hostel with the family that owned it and often played with their young child as he ran around. At one point, they even gave us the keys to the place. We came and went as we pleased and they went home, leaving us to manage the empty hostel. It feels nice to be in one space for a longer period than two to three days, an experience we only had there and in Wuwei over these 60 days. While there, we got some writing work done, and also just tried to have some fun playing Magic online and watching movies. Time was also spent trying to, once again, find an internet café so that we could meet our fun need by playing video games. We scoured the city, going into half a dozen different internet cafés trying different approaches. Continually we got turned down because we were foreigners. This was the first time this had happened to us, and we were shocked and disappointed that no one could see around this problem as our friend Mr. Long had. Finally, Paul and I found one in which we were allowed to play. We asked how much it was and the owner said, "cheap." Paul asked, "how cheap," and he said, "very cheap." He then asked how long we wanted to play. Deciding on 6 hours, he told us it would cost 12 RMB, or the equivalent of about $2. We were shown to an out-of-sight back room to play. I returned the next day to play again and was told we were only allowed to be there at night time. When Pat and I came back at night, the manager phoned a friend to bring his I.D. over so we could use their two I.D.s to sign in with and play that way. It was nice to find a place where they were willing to let us play despite us being foreigners.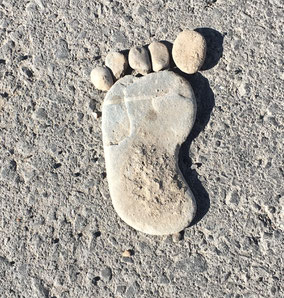 Jiayuguan is the end of the Hexi corridor, and at one time, the end of China. Beyond here, where the western frontiers begin, we expect to see the culture change as we enter the next province, Xinjiang, on our next section. I am looking forward to this change, but also nervous about what Xinjiang will bring between the increased police presence and the challenging environmental conditions. In a desire to turn the inconvenience of the upcoming border run into an opportunity, all three of us are seeking something different to come from it. I am started to get burnt out on being in China and see this as an opportunity for a reprieve from the food and culture. I will be taking a cheap, direct flight to Tbilisi, one of my favorite cities, to enjoy the cheese, change of culture, and practice my Russian. Paul is going to use this as another opportunity to return home to Yangshou, and Pat is going to get some time alone to chill in the hostel here in Jiayuguan. It will be nice to get some space, and hopefully afterward, we will be revitalized to continue building our momentum as we enter the desert crossings.
---