This region started with an experience I hope will be unique for our trip, coming back together and resuming our expedition. Despite feeling that we came in hot with momentum to get work done and getting walking, we were slow to get underway. Once again we found Bishkek a hard place to leave. We arrived just in time for the first ever music festival taking place on Issyk Kol, Kol-Fest. Somewhere Bistro, our nightly hang out and center of our Bishkek community, would be moving the Bistro there for the weekend. Also, Frunze Streets—our friend Sandeep's band—would also be performing. We mulled over the decision for a day or so then decided it was too much to pass up. The night before, we enjoyed the evening at Zack's house. He cooked us plov and we caught up while playing a Russian card game. It was really nice to see him again and the evening is easily a highlight of the trip. Patrick and I (Timb) ended up going to the festival a day early to help Somewhere Bistro set up and before we knew it we were actually the ones in charge of the alcohol for both bars, the bands equipment, and picking up some of the stage lighting. On arriving, all of a sudden we went from being guests who showed up too early to being the momentary representatives of Somewhere Bistro. The festival surpassed our expectations. Our days there were filled copious dips in the lake to beat the heat, long nights of dancing, days of juggling, and evenings of enticing conversations.
Happy for the experience, we returned to Bishkek with the plan of getting the rest of our media in order before walking. Trying to post every daily journal on our website from our first year, we felt like we were running on a hamster wheel that exhausted first our support team and then us. We came into it this time with a new plan: to reduce our work load whenever possible. Still committed to documenting the trip, we will continue to strive to write daily, while only posting our regional summaries. Hopefully, this will eliminate the weeks in hotels attempting to upload dozens of days of writings whenever we had internet.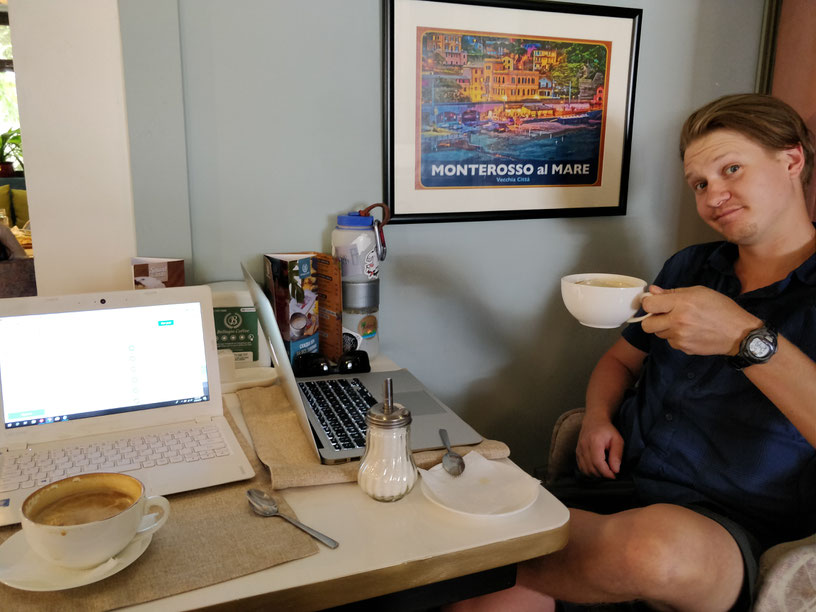 Having spent nearly two weeks in Bishkek, it is clear to see we can always find an excuse to stay here and all of us hope to make our way back in the future. There is something special about the community here that has sucked us in unlike anywhere else we have been. We ended up remaining in Bishkek for one last weekend. That Saturday, both Zack and Frunze Streets Live put on shows, and, despite it being a long night, we managed to see them both. It helped that Frunze Streets Live didn't start playing till three in the morning. Another night, I (Timb) hung out for a night on the town with Sandeep and Nitin, two Indian friends of ours. As I went out with them, I struggled with the discrimination I watched my friends receive. All night, they had to be wary while I received a warm welcome everywhere we went. Sandeep even had to ask his bar security to come pick us up as a drunk Kyrgyz tried to provoke them into fighting. This happened after already witnessing some of the racism they experience here; at Kol-Fest, a local simply walked up and punched Sandeep in front of his Bistro then ran without saying anything. Fighting is a national sport here, and in the parks people are always practicing their one big punch on these punching machines that score the power of your hit. That week Sandeep's friend's brother was attacked on the street and killed by a single punch from a local guy. The man who died was Nigerian and was the head of the American University. Racism is everywhere, but it was still jarring for me to witness my friends experience this in the same country that I am constantly welcomed in because I am a white American. It left me with conflicting feelings about the place and people as we walked out of Bishkek, struggling internally with how different I may view places due to my inherent privilege.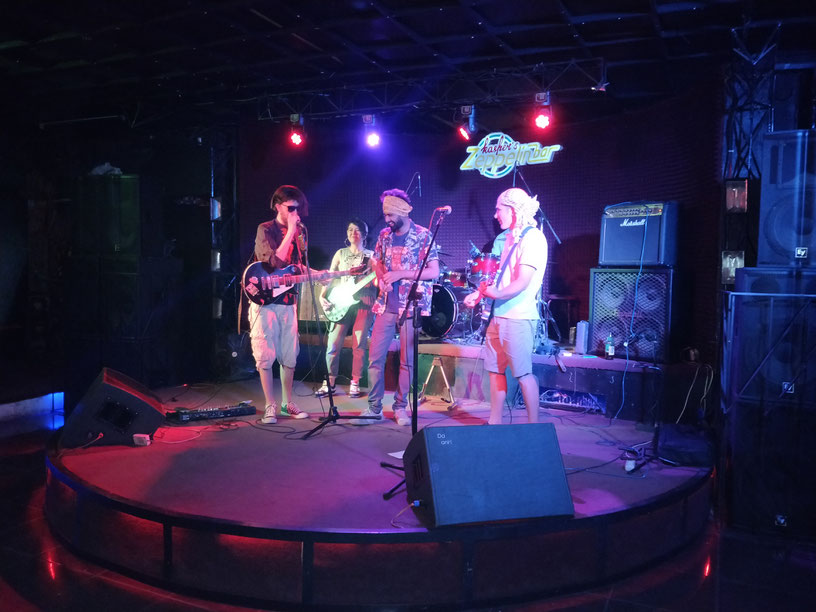 Leaving Bishkek, we only had 78 Km to go to get out of the heat of the valley and into the mountains. With the daily highs floating between 38-40ºC, this was not easy going. We got a slow start and continued moving slowly, only spending one full day walking, and feeling beat down from the sun during it. I continually cooled myself by taking dips in the canal throughout the whole period. Our days went with the flow of the moments and no consistent schedule, sometimes we walked during the day for a little, sometimes we didn't start till 8 pm. As we neared Kegeti, and our pass into the mountains, we decided the 12 Km detour to the Burana tower would be worthwhile—the site of a former capital of the Khanate here during the 10th-12th centuries. When we were nearing the tower, we were invited to lunch by a farmer, Altinbek. We went to his house and ate eggplant and pasta made by his mother. It was nice to escape the heat while talking to him and his wife, Nazgul, who spoke some English. They insisted that we were welcome to stay the night and that we ought to go see the tower then return. We agreed and took off the see the tower. Despite being only half of its original size, we could imagine just how spectacular it would have been to come out of the mountain pass and immediately see it during the height of its glory. We spent the night at Altinbek's and were struck by how nice his place was. It was a spacious and simple compound in which they had cows, a horse, apple trees, a large garden, and they were expanding the house. When we asked them why they would invite travelers like us into their home they explained that in Kyrgyzstan they believed that happiness entered the home with guests, and they both really enjoyed having many people and kids around. Leaving the next day, they insisted that we are welcome back if we are ever in the area. I hope one day that will happen.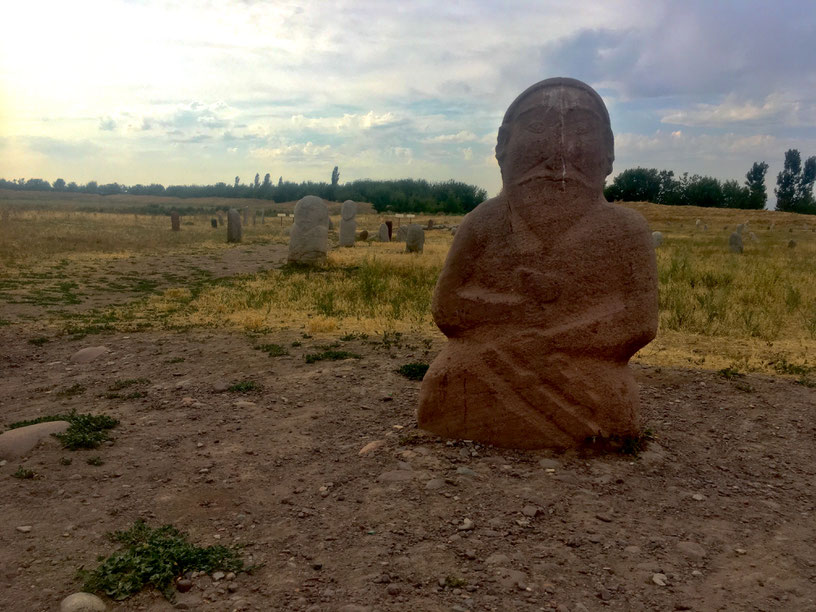 As we left, we once again were faced with a Tianshan Mountain crossing. We all wondered how long it would actually take us and what the pass would be like. We ended up traveling around 10 Km a day through Kegeti Pass. All while being flanked by beautiful high peaks with glaciers clinging to their sides. We had been told that the road was closed now and only four-wheel-drive vehicles could make it up. A friend, Nelson, set up the Silk Road Mountain Race here in Kyrgyzstan and they got what appeared to be two vehicles to the top of the pass for filming.
I believe the road must have gotten worse since then as it was not even wide enough to comfortably traverse with our trailers as we neared the top. We gripped them tightly while fighting the forces of gravity trying to pull them down the mountainside. At points on the way up, the road took on a feel of organized scree as we pulled them up steep rocks that had been spread flat. We decided to spend the night on the very top of the mountain, not something I would generally recommend. The wind was cold and strong that night as we bivied up there in our winter layers to watch the sunset and sunrise from the top. All weekend we saw bikers pass us and we watched one navigate the way down slowly from the top not knowing what really was causing him to go so slow. We found out soon enough as we made our way down the other side of Kegeti Pass. If anyone could drive up or down that I would be in complete awe. The trail was sloped again and any semblance of road vanished as we hit a scree and talus field that seemed to have destroyed all but the corners of the road. We navigated down about a kilometer of scree with the trailers. With no good paths, we each chose our own adventure. I got tired of taking fake, crappy switch-backs and went for the controlled slide method for a small section. Each time we made it down to where it seemed the road would begin, we would again watch it disappear from in front of us. It was challenging, but a fun sort of adventure.
Afterwards, we decided we cannot be doing that with our trailers (which have already begun to show wear), if we hope to have them carry our water and food all the way through to the Caspian Sea. So in a similar pattern to when we first had started in Gansu, we have decided to stick to the highways more often and not take the direct mountain passes through the country. Coming out of the mountain we followed a wide valley spotted with yurts and livestock, as we made our way toward the first shops. We actually finished all of the meals we were carrying for the first time, and with the growing knowledge of what type of food is available at the small shops, we decided we would need to go to a larger town to resupply for our next 9 days. We left our stuff at a small truck stop restaurant and caught a ride to Kochkor. The Silk Road can be felt in Kochkor. The entire town seemed to be devoted to shops, bazaars, and tour agencies for all the foreigners looking to travel to Son Kol or experience rural Kyrgyzstan. There are more foreigners here than I have seen in one place, except for maybe Kol-Fest or the World Nomad Games. We bought a ton of food and were confident that it would easily get us through to the next village despite the frequency of failed dinners due low quality pasta. Some of the pasta tends to make itself into one massive semi-cooked glob with the water turning into a white gelatinous substance that sits on the ground rather than flows away like a liquid. While in Kochkor, we also had a friend join us, Conor. He had been traveling with a bike from Vietnam when we met at Kol-Fest and had decided to join us for a couple weeks.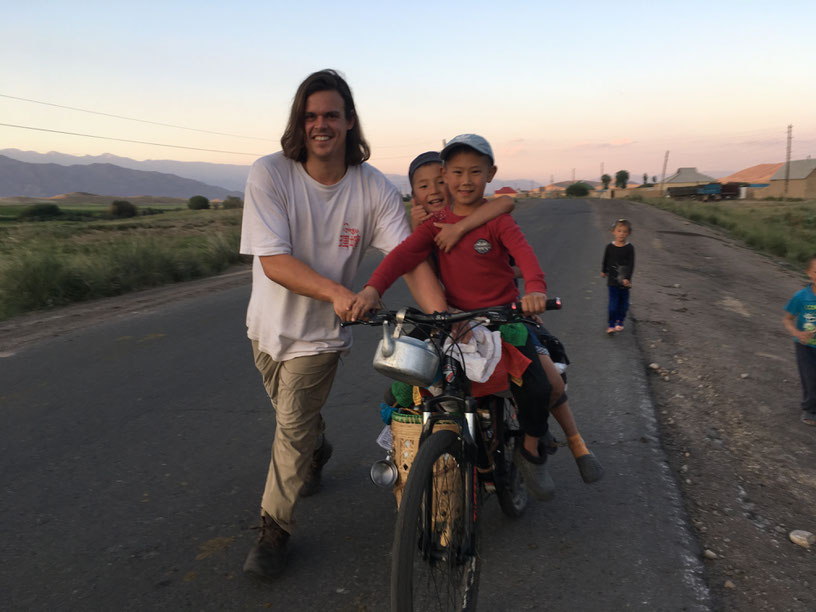 We left Kochkor to return to our stuff in the small village café where we left as a band of four. The regional "highway" was dirt and the dust blasted us as every vehicle and truck passed by until we reached what was labeled on our maps as a fish market. The market was a couple of railroad cars converted into cooking and living areas on the roadside. Four families lived here selling drinks and freshly fried fish during the summer months. Even though we are only 30 km from Son Kol, it still seems like a weird place for getting limitless fresh fried fish when we have to walk 20 minutes just to find a tiny stream to fetch water.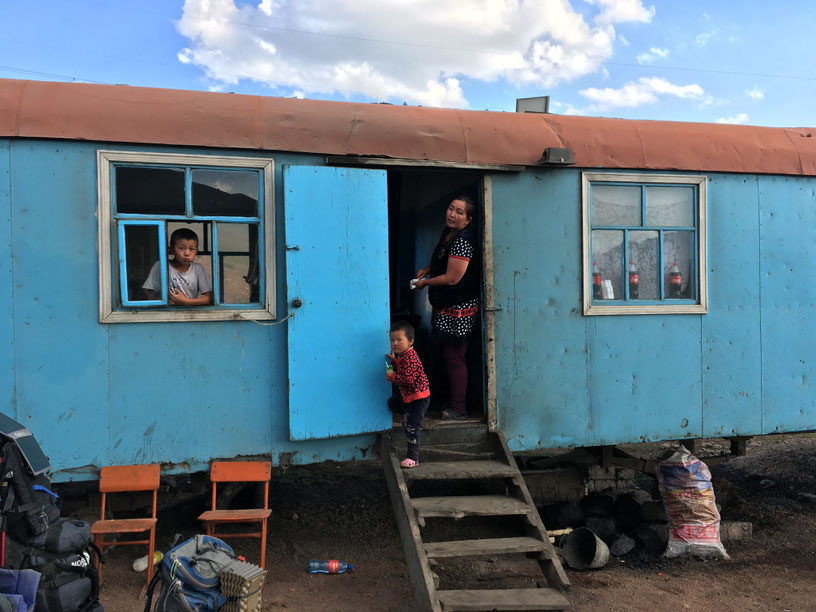 From there, we crossed the first set of mountains on our way to Son Kol, stopping in the first flat area down from the pass where a couple of locals had their yurts in the summer pastures. We had hopes to buy a sheep to share with a family and thought this might be the time and place to do it. I talked to the closest family that night and told them that we wanted to buy a goat to eat with them. It was late and it was quickly suggested that we talk about it tomorrow. The next day, Conor and I went to the yurt to sort out the goat. We were told a goat would cost five thousand Som (70 USD) and that it would have to be later because they were out to pasture then. That evening, thinking we would be having goat, Conor asked to use the family's yurt to make hand-made noodles. After finishing making the noodles all the animals were back and we were treated Kumis (fermented horse milk). It was clear then that everyone seemed tired from the day of work and no one was moving towards killing any animals. We left with Conor's noodles, deciding it was better not to push it. To our surprise the next day we found them butchering a goat in the morning. While Paul had come down with a sickness, Pat, Conor, and I watched them clean out the guts and blow torch the head and feet. While I watched the women clean the guts, they explained to me that they were heading to Issyk Kol the next day and that the meat was meant to go with them. Disappointed at the failed attempt, we figured we would try again later. That evening they brought us what they made, a soup of organs, fat, and a chunk of meat. Conor and I ate some and realized we may have lucked out as it would've challenged us to eat a whole sheep or goat worth of this. Pat and Paul did not even want to try, while Conor and I tried to decide whether to stomach it, feed it to the dog, or bury the remains.
The next day, I got hit with the illness Paul had and we reached a single track horse trail steep enough that we did not want to take loaded trailers up it. We unloaded them and began to ferry our stuff up. Pat and Paul helped me along the way as each trip I could feel the little energy I had being zapped out of me as I made two trips up and down the 1 Km slope. After, we came down a rough section of loose stuff. And after many falls on my part, and watching Pat's trailer veer off into a bush, Pat and Paul took my trailer down the steep spots. At the bottom we reached a thigh-deep river that would wait until the next day and we had some sun. Again, we did a couple trips through the shockingly cold waters to chill out in the sun on the other side.
From there we began to reach the tourist yurts all around, offering us food and a place to sleep. The yurts were only a single day of a mountain range between us and Son Kol. We reached the next pass as a thunderstorm came far closer than was comfortable, causing a quick descent, scurrying towards the relative safety of the slightly lower elevation of the lake. The next few days involved little progress as we bounced from yurt camp to yurt camp along the lake. It was beautiful and we were in no rush to get away after having spent so much time and effort to get there. Son Kol is a very serene place, a large lake in the middle of one of the greenest valleys I have ever seen on top of a mountain. The animals were contained with hobbles on most and we were all amazed how playful the cows seemed to be in this idyllic pasture. During this time we took the less touristy side of the lake and found mainly local tourists traveling the steppe road that was not on the maps. As we left the lake, we descended to another valley and were treated to another incredible view from a Kyrgyz mountain pass.
When we reached the village below, we again left our trailers and headed to the nearest city for a change of pace and resupply. In the city of Naryn, we were lucky to get an apartment to stay in for cheap while the hostel was full, and spent many of the days taking advantage of the kitchen. Having earlier learned that the cost of meat was all the same no matter the cut, we tried to buy fancy cuts but struggled as we had little butcher experience among us. As we bought produce to cook with it, we were reminded just how cheap food was if we cooked for ourselves making 10 dollar feasts of meat and veggies for 4 people. Conor and I ended up making daily trips to the bazaar for meat and veggies, getting better at knowing what we could easily use. This whole time the only part of the kitchen that worked was the broiler, forcing creativity into the cooking process.
While in Naryn, it had become clear that we would not be able to make it all the way to Uzbekistan without doing another border run. And with Conor going back to Bishkek, the idea was thrown out to just join him and do the border run sooner rather than later. I was against it at first as I assumed a border run to Uzbekistan from Kazarman would be cheaper, faster, and easier as we neared the border. After a few moments of research, that turned out to not be true. The cost to travel to Bishkek was way cheaper than the drive from and back to Kazarman due to its location between two big mountain passes where we were told marshukas (local minibus) don't travel to. The cost for one person to get from Naryn to Kazarman at a hostel was the same price as for all three of us to get to Bishkek. With all that in mind, we returned to Bishkek, yet again, to do a border run.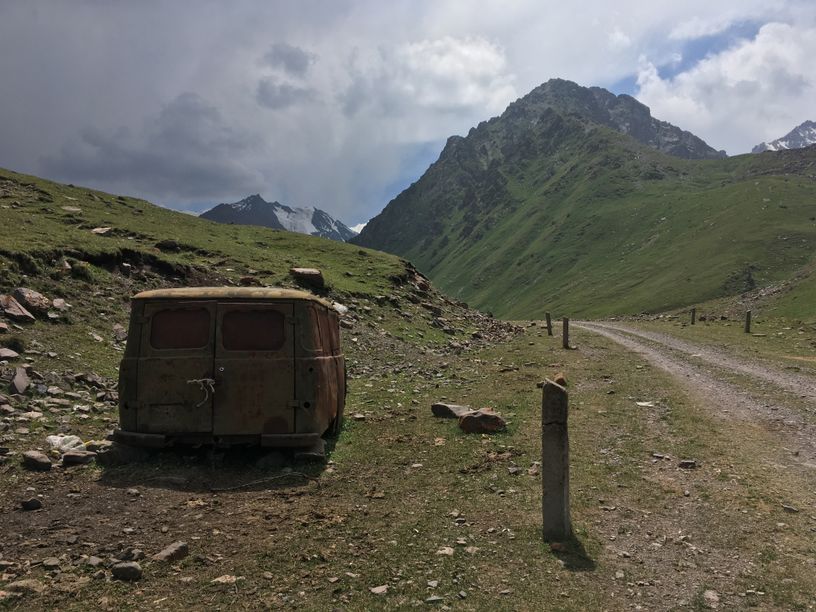 If you simply looked at the numbers for how long it could have taken us to cross Kyrgyzstan, we would have thought it would take little more than a month. As I write this we are only days away from having been here two months and have only made it halfway across the country. The reason is simple. When we have walked, we have averaged fewer Km per day in the mountains from 25 down to 10, and we have spent a lot of time not walking since being back. Why that has happened is harder to nail down. Have we just lost all our momentum with the 8 months we were away for the winter? Are we just making the most of where we are and simply soaking up the experience? Are the 5-day uphill mountain climbs less exciting when they come one after the next? Could it be the comfort of the cities combined with feeling burnt out by the camp food are bringing us back to town whenever we can and keeping us there? Maybe just how much nothingness is in between the stops here makes it hard to go continuously week after week? There is no doubt we all expected to be farther along than we are now. We know all too well the consequence of falling too far behind like last winter. So, one section back into our trip and not much has changed, we have fallen back into the continual questions of how long is too long somewhere? What are the reasons to stay somewhere longer? When is it time to go? I don't know that we ever will have an easy time answering these questions as the reality of having three of us means that we are rarely all pulled in the same direction at the same time. One thing I have learned is that it is more fun to enjoy where we are than to try to rush through, maybe that is why we chose to walk after all.
Written by Timb
---