It had turned into two weeks at the border of Uzbekistan in the city of Osh as we waited for our visas. Timb's and Pat's visas only took a week to receive but for me, it was two because of mistaken dates. The process itself was frustrating as the website Uzbekistan has set up for e-visas is riddled with bugs. After multiple days of trying to resize photos, refreshing web pages, calling the Uzbek helpline, and entering our information in a million times, eventually, the website accepted our applications. When it finally went through, I received the Uzbekistan visa three business days later. By this time, we had seen every part of Osh, we were sick of Kyrgyzstan, and we wanted nothing more than to start walking through Uzbekistan.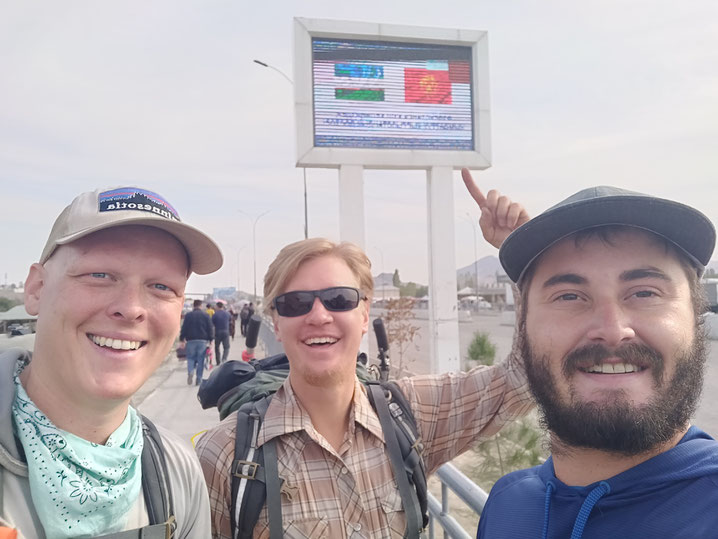 It was a short two-day walk from the border to our first Uzbek town of Andijan. On our second day, we were stopped by a jolly guy riding a motorcycle. He could speak a fair amount of English and insisted on us staying at his place for the night. We had no idea that we would be staying with this guy for the better part of the week. His name was Zoha, and he's one of the greatest people we have interacted with on this expedition.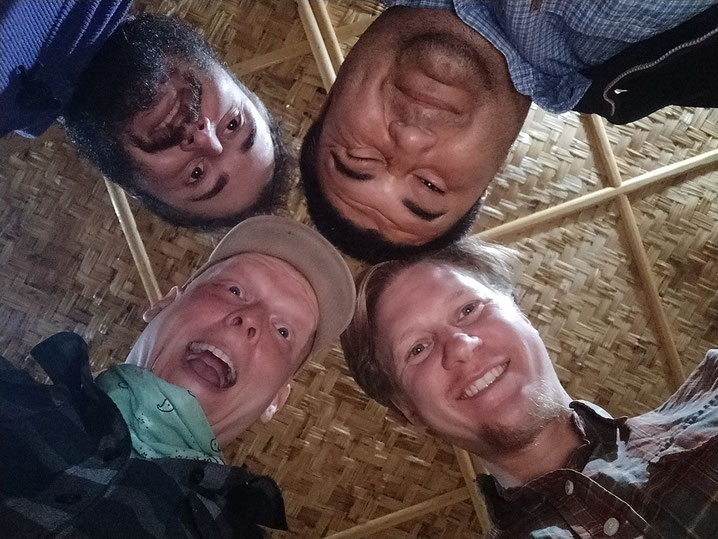 Zoha took us in and had us stay at his spare apartment. Every night he would take us out to eat in a new place. One night we would get plov, one-night BBQ, one-night döners, and every night he would say we could get an early start the next day. This plan would fall short as every morning we would end up staying all day at his apartment and eventually go out for a big meal again that night. Because of our understanding of Uzbek law, getting registered every three nights was important, otherwise, we would end up paying an unknown fine. Zoha did not believe us… After a couple of internet searches, a call to our American embassy in Tashkent, and a couple of days talking it over with Zoha he eventually agreed to help register us at his apartment. This was not an easy process. 
Timb worked with Zoha for almost a full day trying to figure out the website where locals can register foreigners. It turned out the website wasn't functioning and only had been opened because visa policies had just recently changed. We called and told them their website was down. If it wasn't for that call, they said they wouldn't have even known it wasn't working! It was a pain in the butt, but eventually, with the help of Zoha, we got registered at his apartment.
It only took us a couple of days to walk from Andijan to Fergana, but Timb was in a hurry because his boo, Marta, was coming to visit him. Timb was going to spend a couple of days with Marta in Tashkent so that meant Pat and I had a couple of days in Fergana to catch up on writing and exploring one of the most important cities for silk production and weaving in the world. That would have been perhaps the most productive way to spend our time. Instead, we spent a bunch of time playing COD Nazi Zombies at a game club where we met a couple of really cool Uzbeks our age. We still tackled a bit of work during the day, but every night was spent shooting the heads off of Nazis who had turned into zombies.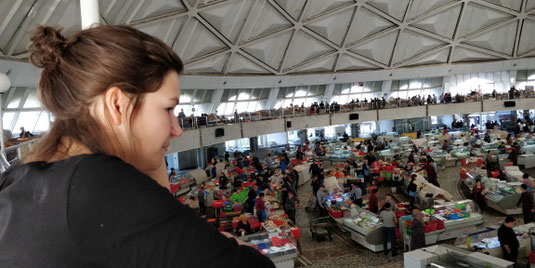 When Timb came back with Marta, we decided to go to the silk factory outside of town. This whole section of the trip Pat was eager to film and make a project of the craftsmanship here in this part of Uzbekistan, the Fergana Valley. From silk, pottery, and knife-making, he wanted to capture it all and show this craftsmanship juxtaposed to the wild nomads of Kyrgyzstan and Tajikistan that surround the Fergana Valley. We spent two days filming at Yodgorlik Silk Factory in Margilan, right outside of Fergana. 
The factory is completely open to the public. You can walk into any room and watch silk being weaved either by hand, on wooden looms, or by machines that were installed during soviet times. The workers didn't seem to mind that we were filming, and they thought it was pretty funny when we came back the next day for even more filming!
Timb and Marta took off a day ahead of Pat and me because we wanted a couple more shots of the Fergana area before leaving. Pat and I spent one last day in Fergana collecting different shots and saying goodbye to a couple of the guys we had met at the gaming club.
Pat and I planned on walking together but after drifting apart because of different walking speeds and taking a few different turns we ended up splitting in the afternoon, each of us walking solo from Fergana to Kokand. There wasn't much to worry about with this plan because this entire section of the walk is developed town after developed town. Food and water are everywhere and the 4G on our phones never dropped out.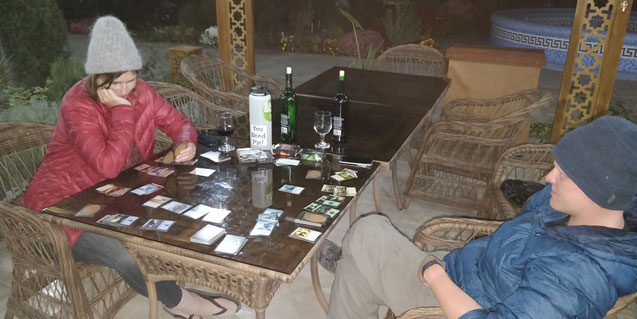 We all got to Kokand on separate days. Marta and Timb the day before me, and Pat the day after. We only had a couple of days till Marta had to go back to Iceland, so we spent them playing Magic and spending time with the newly-weds. We also went to the Uzbek capital for ceramics, Rishtan. We went to a couple of different shops ranging from factories pumping out hundreds of pots a day to small master potter shops, making only a handful every week.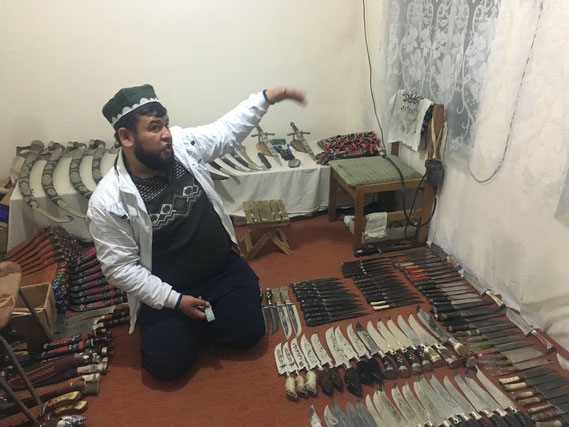 We decided to split up one more time. As Timb took Marta to Tashkent, Pat and I went to Chust to check out the knife-making capital of Uzbekistan. It was a long drive from Kokand to Chust, but we had Zoha call his friend who lived there. His friend, Johunger, brought us to his house where he sells his knives and took us to another place where they were making them. All in all, it was a fun day to see a town that we were not going to be walking through. We picked up a couple of knives for the road and went to Tashkent to pick up our friend Kit. 
Kit was one of the first people to drop out of the Silk Walk Expedition. He was also one of the first to join. I think that's one of the reasons he wanted to join us for a section of the walk. Unfortunately, Kit did not get to partake in the actual walking of our expedition. As he stepped off the plane in Tashkent, he checked his visa and broke out into a cold sweat. He was in line at border control with a visa that had drastically wrong dates. I was just held up at the border for the same reasons and had to wait another week for a new visa. With an amazing amount of luck, the border controller let Kit in without noticing the mistake on the visa. When Kit told us the situation, we immediately understood that Kit was not going to be able to walk with us as our route went into Tajikistan, then reentered Uzbekistan.  The fact that Kit entered Uzbekistan in the first place is a miracle! He did not want to have to reenter Uzbekistan in fears of them catching the mistake, not letting him in, resulting in him missing or having to rearrange his flights. The cost of this was more than he could afford.
I remember telling Kit I was sorry he wasn't going to be able to walk with us and he said,
"Honestly, I didn't give a [poo] about actually walking with you. I just wanted to come and see you."
And to be honest, it's how I felt too. 
 So, we were in a bit of a pickle. Kit couldn't leave the country in fear of not being let back in to catch his flight and we couldn't walk forward. We decided to try and make the best of it by making a plan to go camping in the desert and see some ancient cities along the way. The first thing was we needed to do was go back to Kokand to get our camping gear. We took a train to Kokand, got our camping gear, then the next day got a train to Samarkand with a transfer in Tashkent. So many train rides were a drain on us but when we eventually got to Samarkand it was all worth it. Our first morning there, we went to check out Amir Timur's mausoleum and the Registan.
Amir Timur is the local hero here. He's basically the George Washington of Uzbekistan, a descendant of Genghis Khan, a conqueror, and he brought Uzbekistan into a golden age. A lot of the ancient buildings here were built in his time or immediately afterward. Following our jaunt to the mausoleum, we went to the center of Samarkand, the Registan.
The Registan is in the heart of Samarkand. It was a public square where people would gather to hear royal proclamations and watch public executions. It is framed by three madrasas (Islamic schools). It's really easy to feel small when you stand next to these buildings. As Kit and I were standing outside in awe of these structures, Pat found a group of students who were on a field trip in their tourism class. They asked if they could give us a free tour of the Registan so they could practice their English. 
"A free tour?! Heck yeah!" we said. 
They brought us into each madrasa and told us the history of each structure in their intermediate, yet understandable English. We took a selfie together afterward and parted ways. 
Later that day, when we were getting a bite to eat, we tossed out the idea of us just going to another city and seeing more ancient buildings instead of going to the desert to camp. It felt a little silly traveling with all our camping gear, but it felt right to go to one more city before Kit had to go back to China. So, after a long conversation, between the four of us, we decided to go to Bukhara! Just one more train ride…
Bukhara felt like a larger version of Samarkand when in the old city. Bukhara felt like traveling back in time. We spent most of our time walking around the old city, going into old madrassas and drinking espresso. Kit bought a big fluffy fur hat and fell in love with a waitress. The time flew by, and before we knew it, it was a day before Kit's flight and we needed to catch a train out that day.
We took a taxi to the train station and attempted to buy a ticket only to find out that the train was sold out. Just our luck. Without much of an option, we decided to take a taxi from Bukhara to Tashkent. It was expensive and it was long, about 14 hours, but we eventually made it back to Tashkent. Kit's flight was at 09:00, and he wanted to get there three hours beforehand, just in case. With only a few hours to sleep before then, we decided to do what anyone else would have done in that situation. We went out for massages at a 24-hour massage place! It was one of the best massages of our life! Complete with a sand scrub at the end.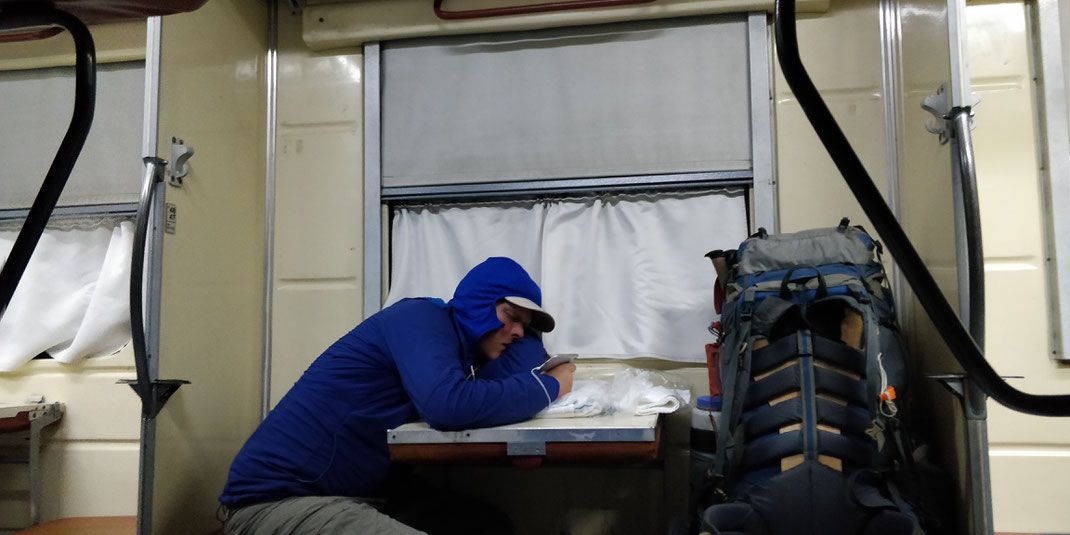 Afterward, we walked around until it came time to leave for the airport. Kit had lost one of his registration papers and was nervous once again for what could happen when dealing with the Uzbek border control. Halfway to the airport Kit realized he had forgotten his visa in the hostel, and we had the taxi driver make a U-turn back so he could pick it up. Kit was a nervous wreck. When we got to the airport, we were so early that he couldn't even check-in. Being an international airport though, the bar was still open. Or maybe it had just opened. We decided to take a few shots of whiskey to cool his nerves. No one cares if you're drinking whiskey at 06:30 am if it's at an airport, right?! After the 2nd shot, Kit was feeling calm again. I don't recommend people doing this regularly but sometimes it's the best medicine for calming your nerves. Kit eventually passed through security without any problems, boarded his flight, and flew back to China. 
Now that Kit had stopped derailing our expedition, it was time to start walking again. We had been so far behind that the idea was thrown out, "What if we tried to walk 30km every day from now on." It was a pushy goal, but we wanted, and needed, to catch up to where we should've been. We decided to go for it!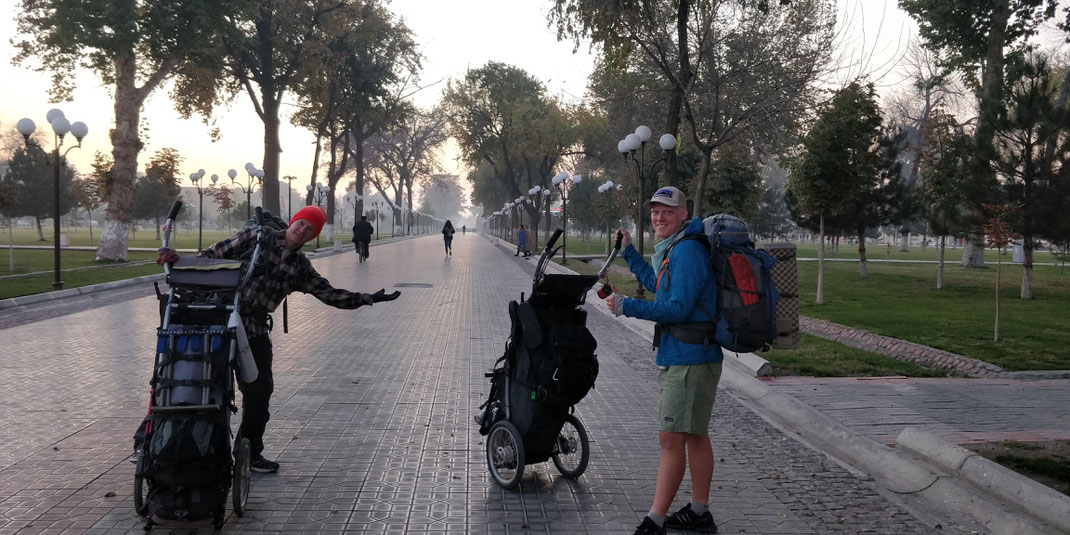 It took us two days to make it to the border of Tajikistan. We left Uzbekistan without any problems. Now we will start perhaps the shortest section of a country on this trip.
Tajikistan.
Written by Paul Ronan
---
Regional Stats
Days in Region: 37 
Kilometers walked: 241
Cumulative
Days on Expedition: 493
Distance: 4,986 Km (~3,116 Miles)