Entering Tajikistan was a lot easier than we expected. Or maybe I should say Uzbekistan was a lot easier to exit. The border security on the Uzbek side was slow and didn't look at our registration slips, which is something that we frequently worry about. There are stories online and even from our friends who have visited who say that they had been stopped/detained at the border for hours. Sometimes missing their flight and sometimes being forced to pay fines that cost more than a flight out of the country. We've also heard that the border guards do not care. The inconsistency has been so consistent that we try to always stay on the side of caution. This was just one of those times where they didn't seem to care.
On the Tajik side, not only did they not seem to care too much about formalities or our visas (which were 50USD each!), they were more interested in our trailers and the map they had on the wall, which we looked at as they were meant to be processing our paperwork. I feel like this was a good sign; anyplace where they don't give you too hard of a time at the border, I think means they won't give you a hard time while you're actually in the country.
We had an excellent first night in Tajikistan. After spending a couple of hours walking through the alleyways of Konibodom looking for a hotel, we bumped into a little corner shop that also sold burgers and lavash. We stayed a little longer than our meal because on the TV was a local MMA fight. The shop owner was pleased that we stayed and hung out with them longer than our meals. So much so that he wouldn't let us pay for our meal! For this being the first interaction in Tajikistan it was a very warm welcome.
For this section, we had a goal of attempting to walk 30km every day in hopes that we would make up some time that had accumulated with all the guests that joined us during the Fergana valley. We hadn't walked hard in the past couple of months which meant Timb was going for the slow ramp up. He would usually start first, then Pat and I would catch up to him eventually in the late morning or early afternoon. Normally, we prefer walking together but when it comes to stretching ourselves more than usual, I guess we all attempt it differently.
One day, while we were walking, Pat decided to buy a liter of honey. I guess he had the sweet tooth moment. At least it was natural honey. I mean, bees were floating in the mix. I don't know how long he's going to be carrying it. Regardless, it's nice to have sweet things every once in a while.
Our section of Tajikistan turned out to be a bit of a weird one. For most of the first half, we were walking directly on the border. To the south of us we had Kyrgyzstan and to the north was Tajikistan. We had a Tajikistan stamp in our passport, so we didn't want to be mixed up in crossing the border illegally, again. All those worries ended up being for naught because on day 4 we walked into a town full of Kyrgyz people. They all had kalpaks (Kyrgyz hats) on and were serving/drinking Kyrgyz cuisine. These little enclaves are all over this part of the world. As much as we would like to divide these counties into neat, succinct borders, the people who live here identify with whatever they identify with. Take a look at a map of this area and you will see enclaves all over. Border disputes are frequent here and have been for thousands of years. Central Asia will probably always be like this.
Anyways, because we were in Kyrgyzstan, we decided the best thing to do was to buy a bottle of our favorite vodka! Also because we've learned never to be empty-handed guests if the occasion should arise. Well, we didn't make it far that night before Pat and I decided to take a couple of swigs from the bottle and felt the effects of the sweet nectar that only comes from the mountains of Kyrgyzstan. As we were taking our shots, Timb walked by and told us that he was going to walk up ahead and find a place to sleep for the night.
Pat and I didn't end up camping with Timb that night. Instead, we finished the bottle off as we walked into Khujand, making it a 40km+ day! Invigorated, we both made our way towards the city center. Along the way, we met a guy named Dimitri who walked with us to the center of town--like 15km away! He didn't speak much English and we didn't speak much Tajik, but we were all happy to walk at a brisk pace during the cold night.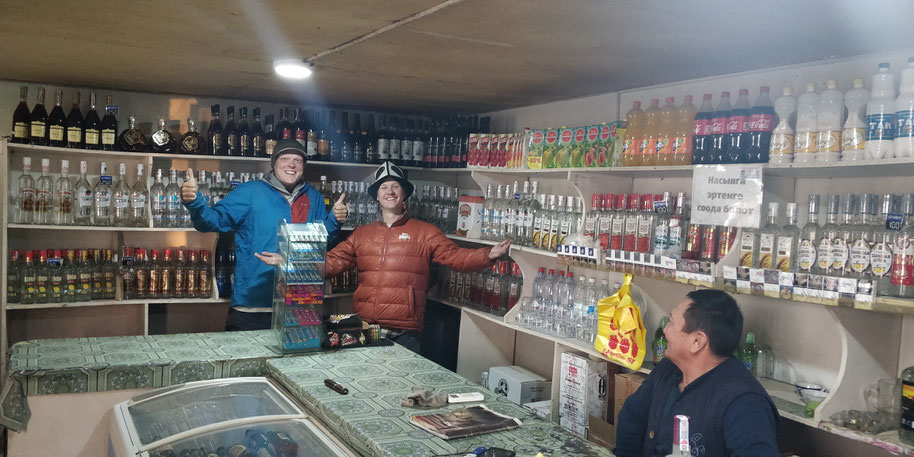 Timb caught up with us the following day. Our hostel was right above the bazaar. The bazaars in most cities or towns are very similar. It is almost like a farmer's market where you can also buy textiles and electronics. That being said, the Khujand bazaar is one of the prettiest bazaars I have ever seen. The opening of the bazaar was built by the Russians in the 70s and it shows off the market more than other bazaars.
While we were all in Khujand, we had an important decision to make. Were we going to walk north and out of Tajikistan, or take the southern route which would take us over a mountain range but be 70 kilometers shorter in the overall end distance walked? Mulling over the options for two days, we explored the Khujand area and eventually decided to take the northern route which was going to spit us out in the middle of nowhere Uzbekistan.
On our walk towards the northern border, we walked through many more towns set in the country of Tajikistan who self-identified as Uzbek. This county is riddled with people who don't identify as the country they live in. Maybe these are just northern Tajikistan feelings. I'm not sure. This country, maybe more than any other country we've walked through, has been the hardest to know which language to speak. Either it's Tajik, Uzbek, Kyrgyz, or Russian. Regardless, it has been memorable.
As with any country we walk though it wouldn't be complete if Timb didn't get a haircut while here. So, right before we crossed the border Timb hopped into a barbershop to get his new local look. While this was happening, I was outside communicating with the locals as a swarm of people came asking about the odd gear we were pushing.
---