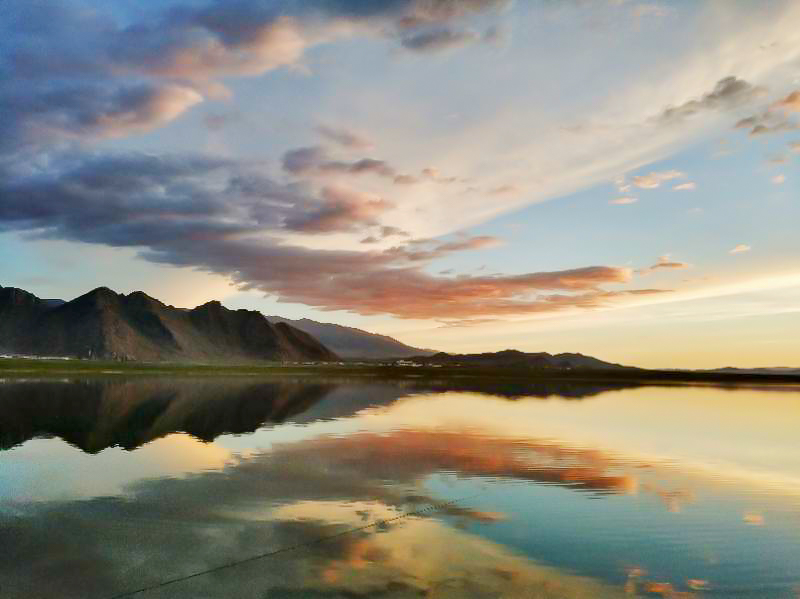 Having spent more time away from our trailers than we ever anticipated or intended to, we arrived back in Hami in a weird place. As a group, we had isolated ourselves before coming back and tensions were felt in every direction. We were not in a good place having left much unsaid; festering for the last two weeks. We stayed in Hami for a couple days, in one part to hang out with the friends we had made there, Josh, Danny, and Thomas. Josh had saved us from a logistical hurdle when he agreed to hold our trailers for us while we were off seeing the big silk road cities and doing our border run. We did not want to simply show up and leave right away upon returning. We spent most of our time hanging out at the bakery where they worked or organizing our journals in the hotel room. We hoped to relieve the group tension before we began walking. It felt as if it were bearing down on us like a heavy fog clouding everything around. Some of the tension was relieved when we did an unstructured group VOMP. A restorative justice tool we all learned when we went to school together at Vermilion Community College. Finally, the time came for us to gather our stuff from Josh's home and with 14 of their baguettes in tow we began our walk out of Hami.
Leaving Hami we had about 70 km before we would reach the Tianshan Mountains and leave the Gobi behind. We walked the first two days through oppressive heat. Seeking the shade of a cell tower's solar panels, we collapsed for naps exhausted from the heat. The next morning I awoke to the news that my Grandma Sarah had passed away. I had known that this had been coming for some time. All the same, while exhausted, drained from the heat, and the still underlying tension in the group, I made a rash decision. Unable to contact my family, I decided to return home to the family gathering I assumed would happen. The next 24 hours were a whirlwind. I hitchhiked out while Paul and Pat graciously offered to get my trailer back into town. At the train station, I got my ticket and then went to the hotel across the street to try to pay for a shower. It had been three hot and exhausting days. Caked in the salt of the dried sweat, I really felt I needed to clean up before the marathon of trains, planes, and buses it would take to get back. As I was about to leave, to grab dinner before my train, Paul and Pat arrived at the hotel. They had been able to hitchhike back with the trailers as far as the police checkpoint at the edge of Hami. At that point, they had walked three trailers 5 km back to the hotel. We once again said our goodbyes and I headed off to take a sleeper train 16 hours to Lanzhou. While on the train, I finally was able to get a hold of my parents, who had been out camping. Pretty clear who I get it from. I learned from my mom that there would be no service or family gathering at the request of my grandparents. My mom encouraged me to try and refund the ticket and continue walking. I managed to do it and hastily told Paul and Pat. They were on a later train to Lanzhou both planning to make the most of the break we all thought was about to happen. We decided to hop off at the next stop and begin working our way back to Hami again.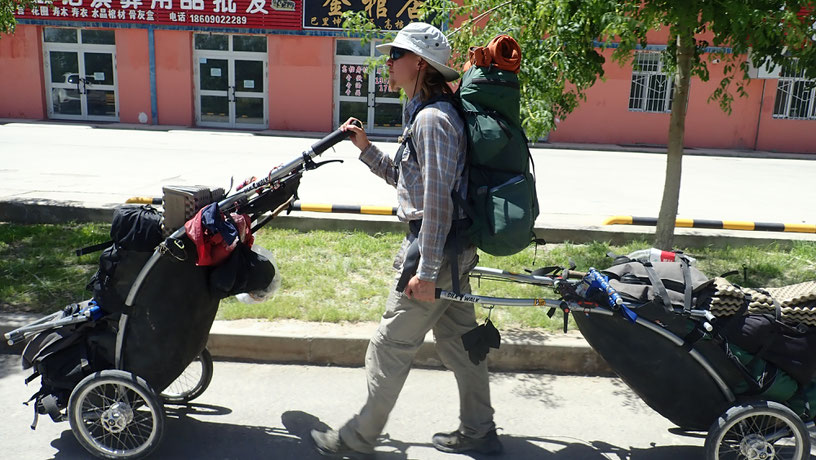 This whole time felt very crappy. I was dealing with the grief over the loss of my grandma. Despite the VOMP we had before leaving Hami the first time, I could still feel a strong tension in the group. This got amplified when I didn't want to take the entire responsibility for the rashness of the decision making. It was clear we were still not functioning well as a group. We took another day to get organize. Then had a late start that was dramatically slowed down by the police. We went through the usual rigamarole and multiple police stations on the way out of town and were even driven back past our hotel to police headquarters needing to start again. We finally crashed as soon as we hit the boundary of the city. This was visibly defined by the trees meeting the edge of the Gobi. We had decided that it had been stupid and fool-hearty last time to attempt to walk out of Hami during the day, so the following morning we got our start around four in the morning. That night we again made it to the solar panels we had returned to Hami from. The first place all trip we had camped for two nights. This method of avoiding the heat worked way better. The next morning was one of the most memorable of the trip for me. We were only about 10 km from the start of the mountain pass and as we walked toward the mountains it was one of the first times all trip we had the opportunity to walk in silence. No trucks were on the road, the construction workers building a bridge up ahead had not yet arrived for the day. I walked in the quiet of the Gobi, watching the sun rise over the Tianshan Mountains. This trip would be a very different experience if we weren't walking on the highway all the time. We also wouldn't truly be on the Silk Road then either.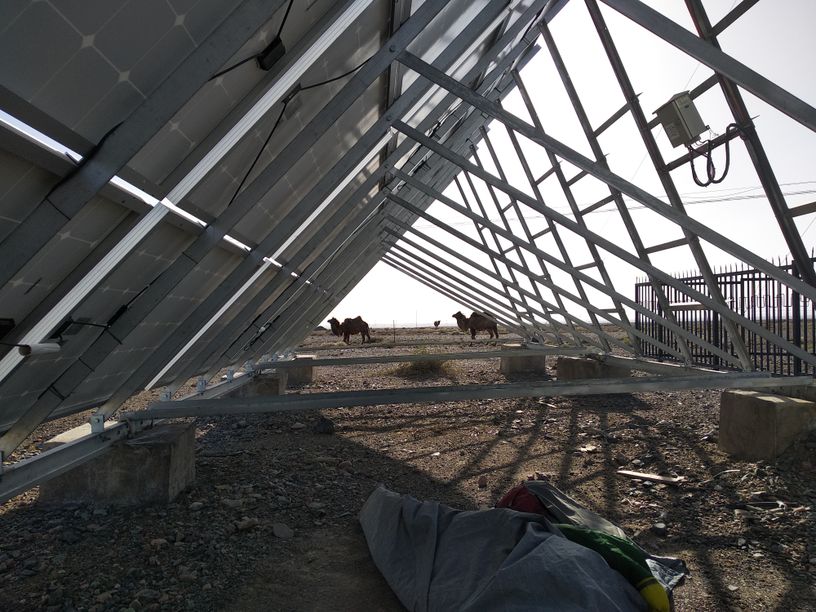 When we reached the foot of the mountains we found paradise. Paradise, like most things in this world, is relative. That day it was a stream, grass, trees, a small shop with an awning, cold drinks from a cooler, and couches. We stayed here to avoid the heat of the day. Vegging out on the couches, Paul and Pat had a movie marathon while I watched some Star Trek and tried to nap. The one drawback to this paradise was the incessant flies, which would have surely driven us insane if we weren't so relieved to be in this place and out of the Gobi.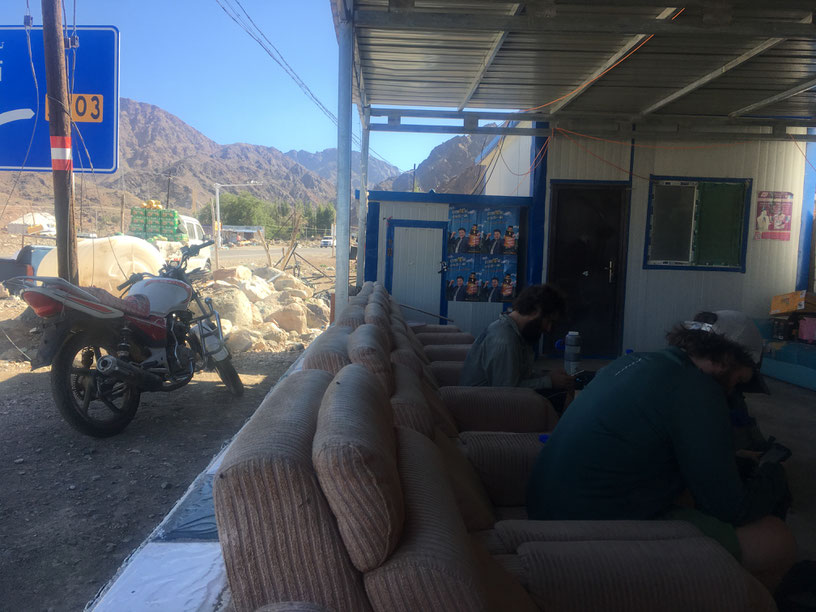 The next day, Pat and I (Timb) made the most of our new opportunities that had arisen since entering the Tianshan Mountains by taking dips in the tiny mountain stream to cool off from the heat. It was very refreshing and revitalizing. Later, Paul asked for a break in a tunnel to wait out the heat of the day. Feeling energized from the dips, I decided to take this opportunity to explore the area we were traveling through. I took off up the mountain closest to us and climbed to a false summit. Tempted to climb all the way to the top, I decided against it as I wanted to return in time to continue walking. I scrambled down the backside of the mountain, drinking water from a mountain spring, and surprising a large herd of goats as I climbed down towards them. It was rejuvenating to get to explore and feel like I was on an adventure. One thing I have learned about myself on this trip is that I generally have low energy unless there is an adventure afoot, then I feel I could go forever.
As we reached the valley near the top of the pass, we came upon a community of Kazakh shepherds living in yurts. Something about yurts and herds of animals complements the landscape well, with its mixed patches of greens and browns on the mountainside. I can only imagine what it would have felt like to reach this community long before the highway began. I know for me it felt like we were truly out of the hot, inhospitable climate and once again in a land that humans can make their home, even if only seasonally. Just before the top of the pass, we met some people driving through, as we often do. They were three Kazakhs, one spoke a little English and started a conversation with us. Pat began talking to him in Chinese and then I heard him use a Russian affirmative instead of Chinese. I asked in Russian if he spoke it and it turned out that he had learned it while living in Kazakhstan for some years. The conversation continued in a mix of English, Kazakh, Russian and Chinese with the three of them. This was the first time I have been able to use my broken and rusty Russian. It was fun to be able to participate in the conversation with Pat and learn a little more Kazakh as well. I look forward to these moments reoccurring as we pass through the cultural transition zone that is Xinjiang. We took the windy switchbacks down the mountain, and in a couple of hours dropped much of the elevation we had gained in the last three days of walking uphill.
Once we reached the bottom of the mountain, we found a police car waiting for us. They told us they would have to drive us to the police station to be registered because it was far east of us. While registering at that the station, many of the police told us they were Kazakh. A common experience we have had, often how the conversation with the local Kazakhs begins. I wonder if this would happen less if they wore ethnic hats that expressed their identity like many of the other minorities of Central Asia. I impressed them with the little Uzbek I knew which sounds like mispronounced Kazakh at it's best and gibberish at it's worst. In return, they corrected my pronunciation of the words in Kazakh, which I quickly forgot. After dinner in the nearby village, we went to sleep in a field behind it. As we laid down to go to sleep in the grassland that stretched as far as we could see with the only exception being the massive sand dunes sitting mystically in the middle of the valley, eagles flew overhead. More eagles than I have ever seen in one place. There must have been at least 15 on the power lines above us alone, sitting like a flock of giant chickadees. It was not hard to quickly fall for this area known as the Barkol Grasslands.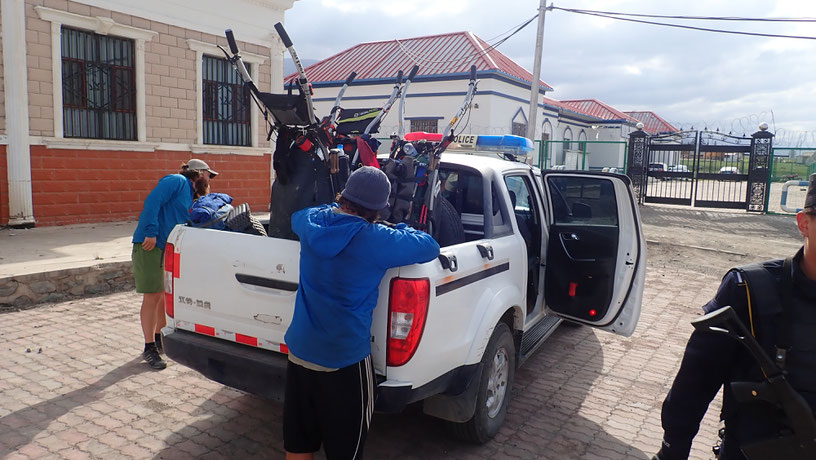 The day before we were to enter Barkol, a small pick up with two cows in it pulled off the road just in front of us. We assumed this was just another of the constant photo ops we are a part of in China. Two men got out of the truck and when we reached them they rashly said they were police and ordered us to get into the truck. We tried to have a conversation with them, but they were not open to any discussion. They continued to insist that we get into the truck. When we protested that there was no room for our stuff, they ordered us to put our trailers in the back with the cows. We told them we would not do this because it was valuable. He then told us he would tie it to the roof, which had no rack or anything to secure the trailers to. Firmly, we insisted that if they were going to take us they would have to call in a vehicle large enough. Nervously, we stood our ground as he made a frustrated phone call. A police jeep showed up shortly after and we loaded our stuff into it. Just outside of Barkol, we reached a police checkpoint and, without looking at our passports or asking questions, they told us to continue walking on. They made sure we understood we were not to return to that 15 km of indistinguishable farmland that they had driven us through. Then realized they had not taken the opportunity to get pictures with us. I was a little annoyed by the entire interaction, but we obliged and Paul even got the police to pose like they were holding guns in the photos with us. After traveling no more than five minutes, we were again stopped by a police officer on a motorbike. Despite explaining that we just came from the police still in sight behind us, we began the usual process. At least half a dozen police came and went, even some we had just taken photos with.
Arriving at the hotel, we found a crowd outside of it. Paul went inside to find no one there, so we pulled out our stools and began hanging out in the cool evening air with everyone else in front of the hotel. We played with the small child there for a while and eventually got around to asking the family that ran the hotel if they had a room. We began our usual negotiation to try to get a two-person room for the three of us and they told us that they would simply let us have a second room for free. Blown away by their hospitality, we thanked them profusely.
Barkol was where we met up with our second guest on the trip, Marta. We had two days before she arrived there, now that we had been driven into town. During this time, we had the first team meeting with Conner and Katherine in a long time. It turned out the negative feelings about how the trip was going before this section had not stopped at just the three of us. During the meeting, they expressed their frustrations that had built up while working with us. We had not been good managers nor communicators. It was a sobering conversation about how to go about this expedition, if we still wanted them working with us and if we could manage to keep them feeling in the loop and part of the team. Making a plan to go forward is the easy part, whether we are able to follow through is something that only time will be able to tell. For the most part, we will only be able to enact a plan after the summer as the two of them head out on trail to change some lives at Voyageur Outward Bound School.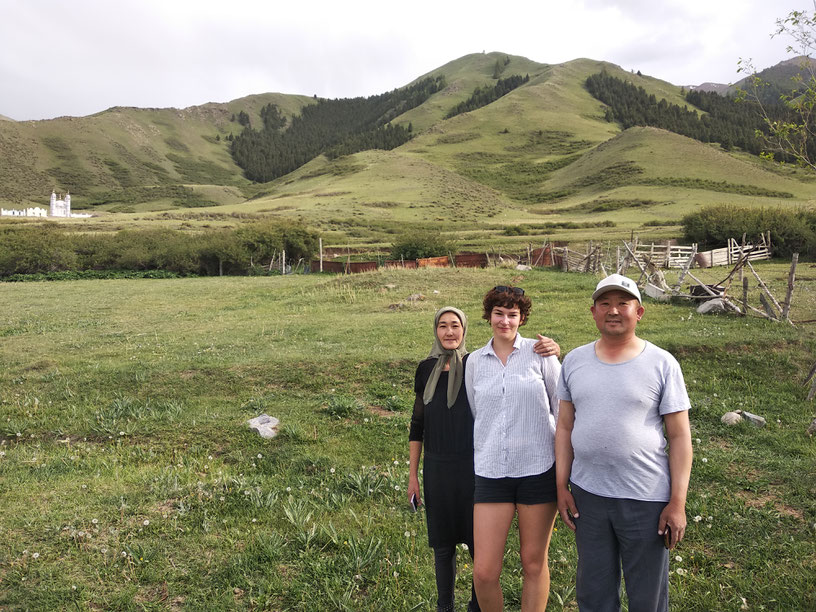 That evening, Marta arrived and we decided to spend one more day in the area before heading out. After buying supplies we needed for the small crossing to come, Paul and Pat vegged in the room watching movies while Marta and I set off to explore the nearby mountains. For various reasons, we ending up staying in Barkol for three more days. This gave us the opportunity to take up the family that ran the hotel on their offer of barbecuing with us. We woke up late that day and I rushed to buy a watermelon. When I returned, the feast had already begun and multitudes of meat skewers were forced into my hands. It was amazing to receive so much hospitality from this family and really rejuvenating to meet such warm and generous people. We spent the day hanging out and learning about their lives, only being allowed a short nap before they feasted us again, this time on dà pán jī (big plate of chicken).
Finally, Marta and I joined them for a walk around town. It ended with us learning how to dance with the Kazakhs in the park. During our stay, I joined the family for dancing in park three different nights as well as night walks around town. It was nice to really learn about them and to make some local friends. They were a mixed Uyghur and Han family and told us of the difficulties that they have endured because of this. Him not being accepted in her community in Kashgar because he wasn't Muslim, and her not being able to get hired in Barkol because she is Uyghur.
Finally, we set off and encountered the police as we tried to make camp. Marta convinced them to let us stay at a couple yurts near Barkol Lake. We ended up spending an extra day there, Marta's foot hurt and we hoped the rest would heal it up. Luckily, that day a yurt was to be put up. Pat, Marta, and I joined in the construction of it with the community of Kazakhs. It was clearly a larger yurt than they were used to as the old men would discuss how to get it up. Getting the roof up definitely did not go as planned, as it was reattempted a couple different ways. This area is primarily populated by Kazakhs who have lived in this area of China since the Kazakh identity emerged. Many of them speak no Chinese at all and phone translators are worthless here since they write in a different alphabet here than in Kazakhstan. This may be the most challenging area of communication of the entire trip. For the most part, no precise communication was needed to build a yurt, eat lunch, or dinner together. The highlight came while talking with one of the elders who spoke Chinese at dinner. He told us we had acted just as neighboring Kazakh tribes always have; without being asked, we had shown up and joined in with the neighbors to put up the yurt. They were very grateful, and it was fulfilling to find out that, without knowing, we had filled a role in a long-held cultural tradition. In fact, he was doing the same as it was not his yurt that had been put up.
Unfortunately, Marta's foot did not heal during that day, and she decided to stay behind in Barkol, while the three of us carried on, with the hope of rejoining in a few days. Leaving the lake, we lost elevation all the way until we reached Urumqi. Immediately after, we walked through dry hillsides which were empty except for the occasional yurt, stacked-stone building, or more concrete home. Always with a herd nearby either of sheep, goats, horses or camels. The Kazakhs we met through this section were characteristically generous and hospitable. We were given a gift, small or large, from all of them we spent any time with. Whether it was the family that invited us in for the common lunch of the area―salty milk tea, fat or butter to mix into the tea, and old bread―, the family that gave us a place to stay for the night in their spare one-room house, or the shepherd on his motorbike who offered us 100 RMB for food because he had nothing else to give us. This area was beautiful to walk through; the police were nowhere to be seen, and for all but a few days, the roads were quiet.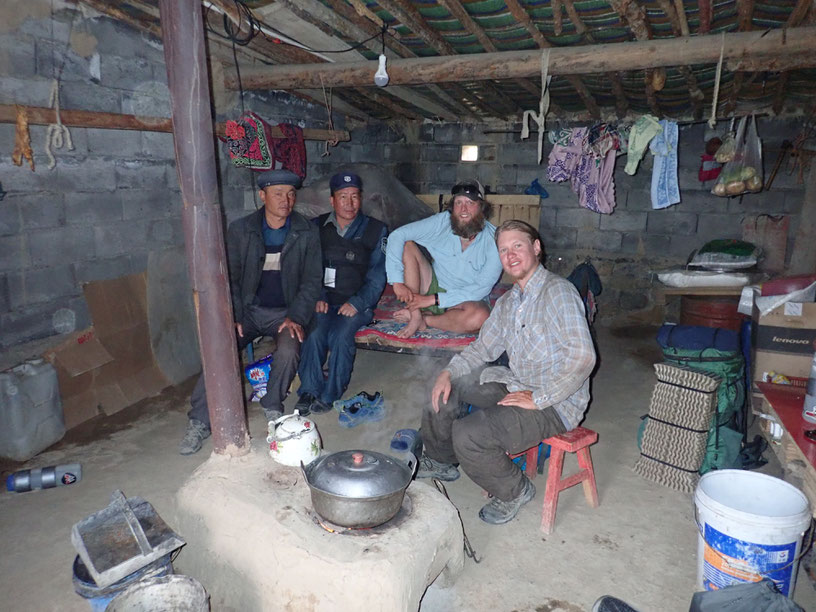 During this time we were still feeling the struggles that had been plaguing us inter-personally as a group and feeling the strife over little things. We had a long discussion one night that carried on into the morning about how hard it had become for me and Paul to hang out with each. We had forgotten how to enjoy each other's company and made a plan to try to do more activities for the purpose of fun together. Paul opened up about the difficulties of interacting with me and I realized how my actions of dredging up past events had led to this reality. Pat added his perspective from an outside angle on the situation as well. Although these nights are not common, it is when the real shifts in how we function as a group begin to change.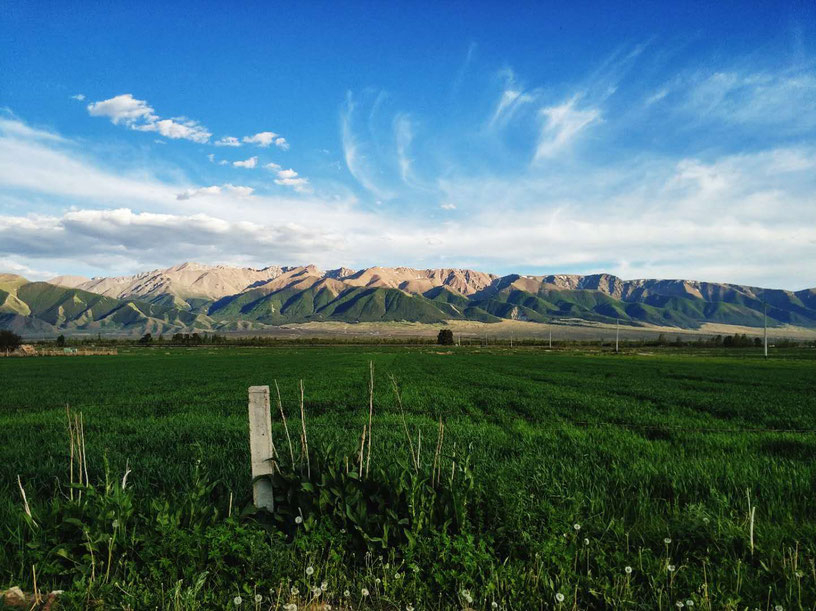 While we had continued on, Marta accepted that her foot was not healing fast, despite an egg white and camel hair cast put on it by our friends in Barkol. Although she would not be able to rejoin us to walk, we would be able to see her the next day in a village before she returned home. The night before we planned to arrive in that village, we had a storm. It was our first whilst camping. This is kind of crazy to think about since we were approaching our eighth-month of the trip. We had been traveling in arid areas. Besides the occasional sprinkle, and the multi-day heavy sprinkle we faced in Gansu, all we had really dealt with was cold, heat, and wind up until that point. Unfortunately, this had brewed complacency within us. Despite seeing the storm in the distance, we chose a place for camp that would get us out of the sun and heat we were currently dealing with. Paul bedded down in the tunnel, Pat set up his tent in the dried-out wash, and I bivvy-ed there, too. The poor ground for the tent stakes caused Pat's tent to fall in the wind and rain. He decided to give up on the tent for the night after it fell and Paul stayed up with him watching movies for solidarity. This was the only reason Paul's sleep system stayed dry as the mud rose in the tunnel throughout the night. I awoke to find them in the tunnel with a huge puddle between us and mud everywhere. It was a rough day for Pat, off the little sleep, and we realized we had become complacent due to the weather.
Exhausted, Pat did not make it to town that night but camped a couple kilometers down the road from where we were to meet up with Marta. When we arrived, we realized our hopes of cleaning up and doing laundry would not be a reality there. To say we were staying at a hotel or hostel would really give the wrong impression. The place did not so much as have a sink. The door, which was not connected to the wall, had to be lifted or dragged from the corner and then leaned in place, leaving it mostly covering the doorway. Muddy from the storm, we immediately were tempted by the idea of taking the one-hour bus to the next town to clean up. We could then be more comfortable as we hung out with Marta for the last time before we left. We were about two and a half months behind our plan though. Realizing the greatest delays have been when we have left our trailers behind. We started this section with the intention of avoiding that until our border run in Urumqi, and then the Nomad Games in September. The three things that often caused our delays were injuries, friends, and work. We began this section with the plan to avoid all these for a while to catch back up. Now faced with our first opportunity to break this plan, we debated it for the morning before deciding that there was no real need to get clean and comfortable right then. This decision was a sign that we were moving forward in the direction we wanted to on this leg. While there, we had another conversation with Conner. It was right before she left for trail for the summer, and it was again mainly about the frustrations of trying to work with us. This fired us up to make some changes and ignited many plans to change how we have been dealing with the workload we have created to share this trip. We said goodbye to Marta with big plans to get a lot done when the opportunity arose next.
It did not take long for that opportunity to come as we descended down from the mountains into the sprawling farmlands that would lead us into Urumqi. We stopped in two of the cities along the way for big work days. We had dreams of really beginning to utilize our social media for stories, get our regional summaries up on our website, and begin work on a video introducing our walk. All of these were things we hoped to have been done months before.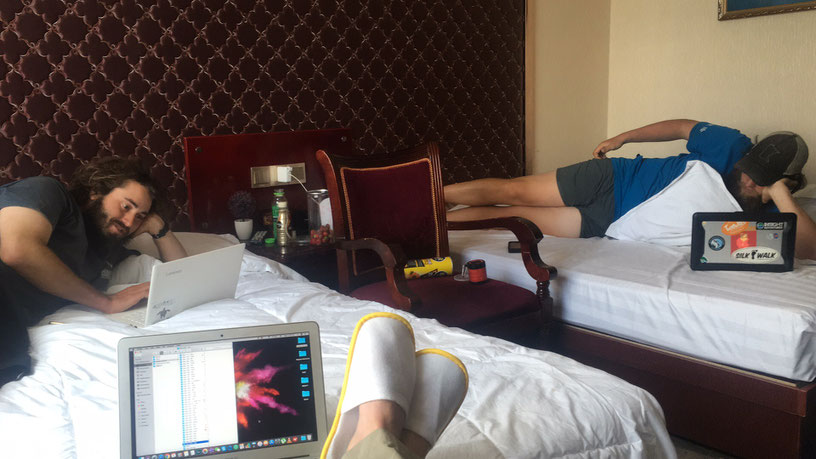 All this time we were still facing our ups and downs as a group. We discussed doing a solo day which was decided against. We disagreed about whether to try to catch up on our route or simply accept where we were. We learned that our finances had not been logged as well as we had thought and we are drastically over budget. We differed about what our route ought to be in the future and when to stop during each day. In general, we disagreed a lot. Sometimes over minor, petty things which had built up as they do over 8-months and boil over with the stress of all the weight sinking down on us. One of these disagreements led us to change our evening meeting format to a question for the group. This tended to lead to group discussions that we had not been having. Not that these were always easy in our low moments. It was during one of these that I came to a realization that much of my fault in my deteriorating relationship with Paul was just not accepting him for who he was but wanting him to change. When I came to this realization and shared it I felt as if it was a turning point for me. Paul and Pat also opened up during these discussions and although challenging, they were just as often enjoyable. I believe these regular, nightly discussions continued to help us grow back together as a group.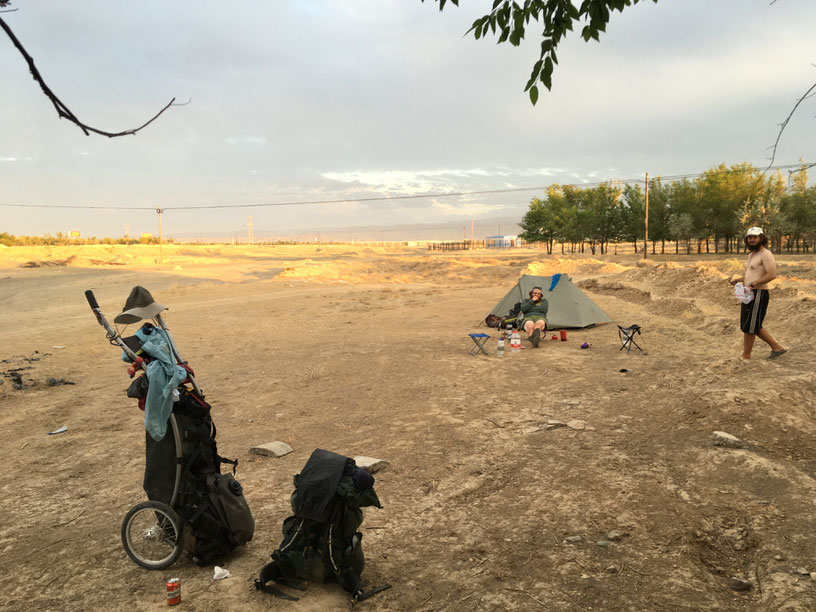 As we approached Urumqi, we worried about the ordeal we expected to have walking into this massive city. Not only would it take more than a day from the outskirts to our intended hostel, but the walking paths were riddled with stairs, which in large quantities can be a big hassle with trailers. When we reached a large town on the edge, the idea sparked of simply doing our border run from north of the city. This would eliminate two days of walking and would avoid the hassles of walking into the region's capital. We struggled to find a hotel we felt we could afford as we went from one large town to the next along the northern border. It is wedding season now and the hotels accepting foreigners in this area all wanted to charge us about 600 RMB a night. As our time window dwindled, we finally found one in the third town that we were willing to pay for. They agreed to hold our trailers, and the next day we took the bus into Urumqi.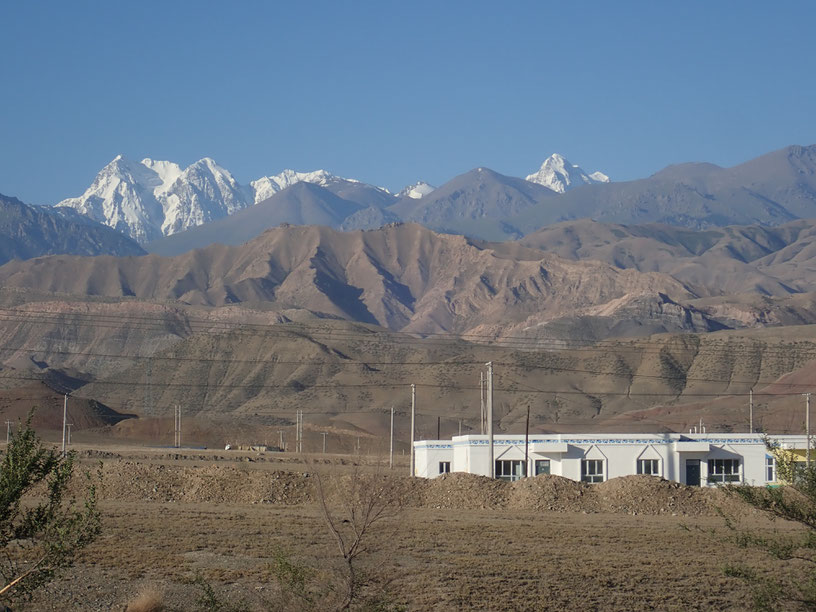 Often, border runs have served as a much-needed break from the monotony of the trip. We planned to make this one short and sweet, with the goal to get back on the road quickly. We only spent two days in Urumqi. I saw a few of the sites that Paul and Pat had already seen on previous trips. Paul got to hang out at Fubar, a bar where he had made many friends months ago when he was in Urumqi. Pat and Paul both had a movie marathon to decompress, and I continued to try to crank out work. Both Pat and Paul expressed feeling the burn-out from our constant work during the rest days of our last month and really enjoyed taking the opportunity to just relax.
The border run was a marathon event. We got the night train, only getting on at the last moment due to long lines for tickets. We arrived at the border town the following morning to wait hours for the bus to finally leave in the afternoon for the border itself. We got through customs on both sides after Pat and I were both momentarily detained leaving China, with maybe a quarter of our bus. On the Kazakhstan side, we immediately found the last bus back which was leaving right then and did the process over again, rushing from the border to barely catch our train back to Urumqi again.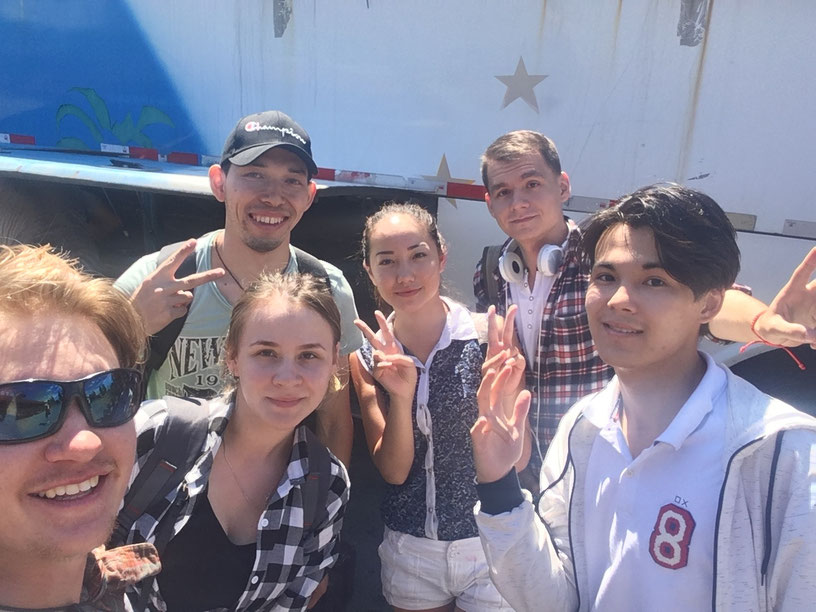 Both during the border run and at the Fubar, we had the style of language interactions that first happened early in this section in the Tianshan Mountains. During the border run, we were on the bus with a group of Kazakhs studying Chinese and at Fubar hung out with a Turkmen studying in Chinese. In both cases, we proceeded to have conversations that fluidly moved between the four languages each of us had various levels of knowledge of. Paul and Pat speaking English and Chinese. Me speaking English, Russian, and a word or two of Kazakh and Turkmen. The others speaking Russian or Chinese with a word of English, Kazakh/Turkmen thrown in or taught. To me, Xinjiang is the place where the salad bowl of the Silk Road stands out the most. I hope that this style of interaction continues to pop up as we head out of Xinjiang in our next leg. Not only was it fun to attempt these conversations, it was nice for us all to finally be able to participate in a conversation.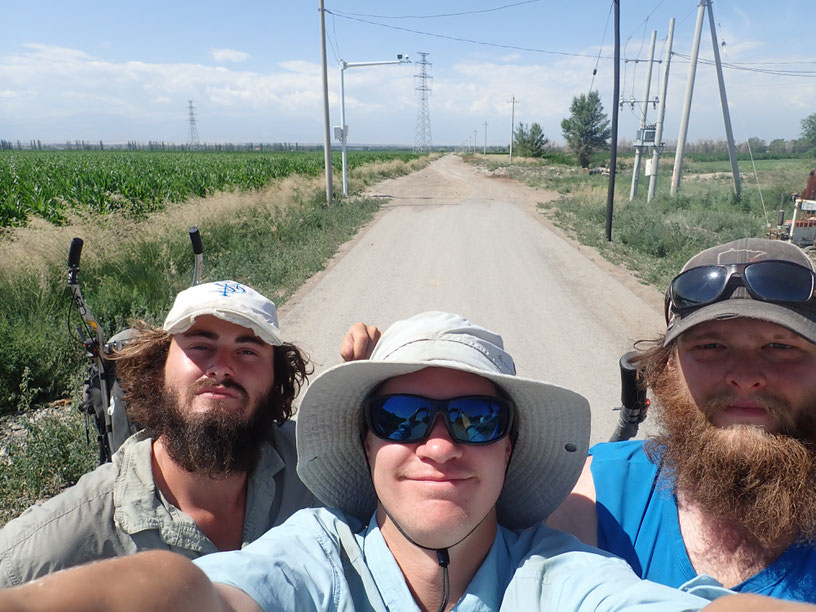 In retrospect, this leg was very transitional for us. We continued to transition from Chinese to Turkic culture. We left the heat of the desert for the mountains. Growing problems within our group rose to the surface and efforts were continually made to turn them around. The decision making that led us to be so far behind was brought to attention and we adjusted it. Starting the leg, having felt that we were falling short of our goals and expectations of ourselves, we end it on a sustained pace getting close to 30 km a day, and having published all of our regional summaries online, finished our interviews for the video, and beautified all the journals on our website. I would be shocked if this trip is not a series of ups and downs over the course of two years. It feels good right now to be moving in a positive direction and, hopefully, we can continue to smooth out our ups and downs, or at least our downs, as we continue to learn how we can better do this trip and what we are capable of.
Written by Timb
---
Regional Stats
Days in Region: 53 
Kilometers walked: 650
Cumulative
Days on Expedition: 268
Distance: 2,860 Km (~1,788 Miles)